One of things me and my mommy girlfriends do often is get together for mommy happy hour. We let the kids play while we happily sip libations and gab about what's new in our lives. One of the best ways to break the boredom of being a SAHM and also stay connected to the outside world is by getting together regularly with other moms. Sometimes it's just one other mom, and other times we have a veritable open house of moms and kids going in and out. I love having that time to chat and relax while the kids play, even if we do only have an hour before crying and whining ensues.
In that spirit, I bring you the Mommy Happy Hour series, which you can expect every Friday. Feel free to grab a drink (I won't tell anyone if it's before 5), hand your kid the Ipad, and see what I'm loving this week!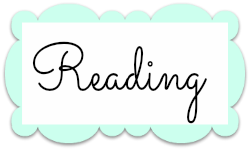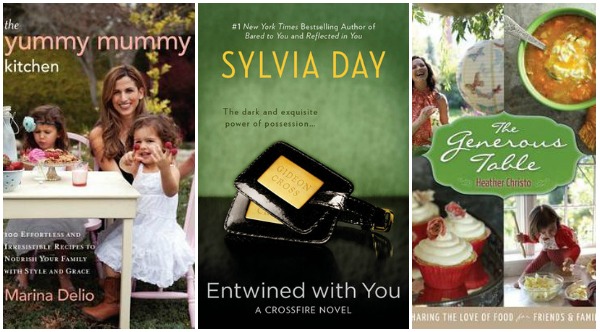 The 3rd book in the Crossfire Series, Entwined, came out recently to a lot of hype. If you aren't familiar with the series, think a tamer more romantic Fifty Shades of Grey. One word to describe Entwined would be HOT. Like for reals. The great part about these books is that they are surprisingly well written with likable and well developed characters. Not exactly the kind of book you want to discuss with dear old dad, but I'm pretty sure your husband will thank me for the recommendation. My full review is HERE.
I also recently went through a cookbook buying binge and am swooning over both Heather Christo's Generous Table and The Yummy Mummy Kitchen. Both these women are super chic moms (and bloggers!) and their cookbooks are full of beautiful and inspiring food. Again, full reviews HERE and HERE.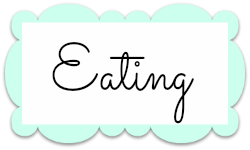 Brownie Brittle. This stuff is like brownies in chip form. Dangerous. Like, oops, I ate the whole bag dangerous.
Our amazing date night sitter has sadly left us to go sing her way across Europe for the summer, so hubs and I have kept it close to home when we've been going out. A frequent haunt is Lincoln. Incredible Italian food with ridiculous views of Lincoln Center. I especially love the open kitchen, it's like dinner theater for foodies!
Need some ideas on what to make for Father's Day? This Rosemary Crusted Standing Rib Roast with Red Wine Gravy is my husband's all time favorite meal, and a surefire man pleaser. Follow it up with a Homemade Ice Cream Cake that includes your dad or husband's favorite candy bar and cookie. Nothing screams I love you! like food.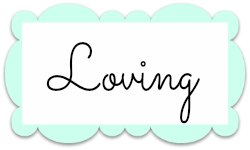 Neutrogena Revitalizing Lip Balm is my current can't leave home without it obsession. Normally, I would never stray from Fresh, but this balm makes your lips super soft and gives just a hint of color. I especially love petal glow and soft caramel. The packaging is not so fabulous (like, kinda ugly), but the product is awesome!
We are always on the lookout for new tv shows for the kids. There is only so much Thomas a mom can stand. Henry Hugglemonster on Disney is super cute and the kids LOVE it.
It's finally warm out, which means spending my days in Jack Rogers and Rainbows. Pedicures are thereby essential and my current polish love is Snog by Butter.
I'm also super excited for the start of True Blood this Sunday. Might be Father's Day, but I claim the remote!
Have a great weekend and Happy Father's Day to all the dads out there, especially mine!