Happy Friday! This is actually a very exciting Friday for us because tomorrow we leave for vacation! Wahoo! Before we had kids, Brad and I would go away a lot and to some really fun places. Now, my idea of a great vacation spot is simply my parent's house down south – built in babysitters! It also helps that they live in our favorite place (which is also where we got married – which we did before Carrie Underwood copied us!). There's nothing like a week at the lake. I plan on doing a lot of reading and working on correcting my sad, pale state. Anyone have any good book recommendations? Here's what we've been up to this week:

♥ Cross Roads by Wm. Paul Young – Young also wrote The Shack, which is one of my favorite books, so I was really excited to read this one. It has a similar premise – troubled person encounters the Holy Trinity in human form, Trinity helps person work through some of their issues, person is ultimately changed. For dealing with some rather extraordinary circumstances, the story was pretty dull. Somewhat forgettable, and not making my recommendation list. Full review HERE.
♥ Firefly Lane by Kristin Hannah – This one has been recommended to me a lot, and is somewhat of a book club darling. It's your typical best friends forever kind of story, about two unlikely teenage girls who grow to share a unique and long friendship. Very reminiscent of Now and Then. More depth than the usual chick lit, and be prepared to shed a few tears. Full review HERE.

♥ I'm forever forgetting to set out the butter to soften when baking cookies, and usually end up microwaving it. HERE is why I won't ever do that again!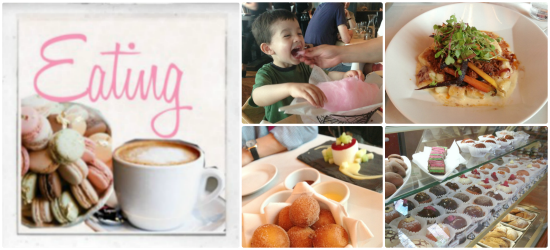 ♥ Italian Donuts from Bomboloni – Not a bad way to start the morning!
♥ Cotton Candy at Landmarc – Brunch at the Columbus Circle location is an all-out kid fest! Plenty of room to bring the stroller, and the wait staff is super accommodating to food throwers. A must try for a meal out with the littles.
♥ Date Night at Robert – Sitting atop the Museum of Arts & Design, this colorful and fresh restaurant has one of the best views around. The crispy gnocchi is not to be missed (seriously, I'm dreaming about it), and try to snag a table by the window.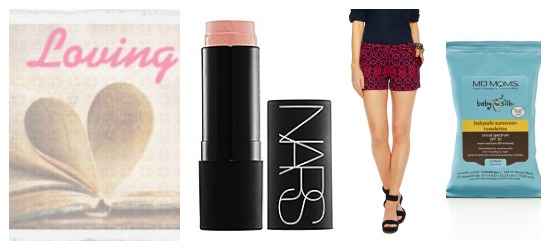 ♥ Sunscreen Wipes by MD Moms – I kinda sorta hate putting on sunscreen, but the kids have inherited my paleness, so it's a must every time we walk out the door. These wipes make the process so much easier. They aren't cheap, but they are worth every penny!
♥ Shorts by C Wonder – Love how cute these shorts are! I wear them with flip flops during the day and with wedges for a casual night out. I'm also obsessed with this metallic striped shirt I got from there.
♥ The Multiple by Nars in Orgasm – This makes my (and practically every fashion magazine out there) must-have beauty list year round, but it's especailly awesome in the summer. Since it's hot and humid, I like to keep make-up wearing to a minimum. A little of this on your cheeks and eyes, and you are ready to go! Great for travel too, since it won't break like powder make-up.
What are your plans for the 4th? Anyone going away?