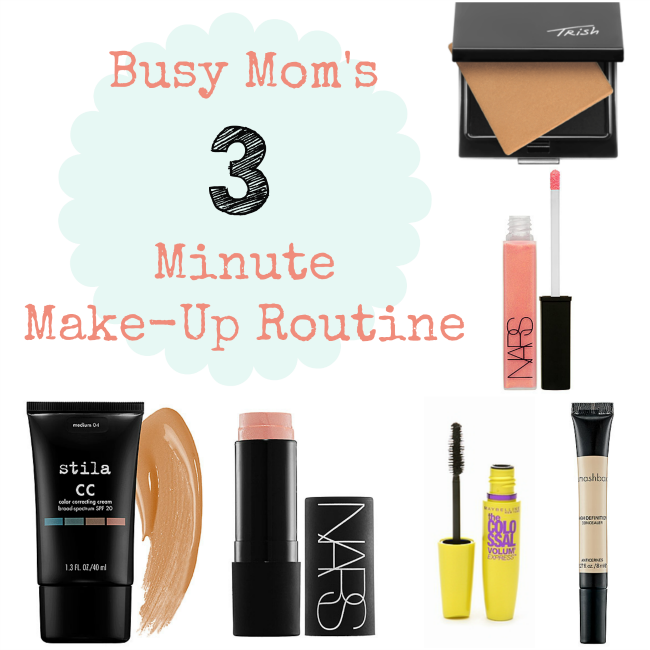 Mornings can be rough. Actually getting out the door with your hair brushed, lunch boxes packed, and a fully equipped diaper bag, can be borderline impossible at times. The idea of putting on make-up is nearly laughable.  But I'm a firm believer that feeling put together and presentable makes us better moms and women in general. It gives you that extra little boost of confidence to attack the day. And it's pretty nice not to have to fret going to the grocery store for fear of running into someone you know.
My philosophy is that daytime make-up should be all about looking fresh and natural. Save the dramatics for night time. I prefer to look special at "special" times, rather than the same day in and day out. So my daytime beauty routine is shockingly quick and easy, and will have you feeling ready to start your day in no time. In fact, it will only take you 3 minutes. One major key to making this routine so speedy is in keeping everything you need in a separate make-up bag. That way you aren't rummaging through all your make-up, and since there are only a few items, it really won't take up that much space.
Here's how to do it:
Minute ONE:

Apply BB or

CC cream

all over freshly washed and moisturized face.

Dab concealer under eyes and anywhere else where needed.
Minute TWO:
Dab cream blush on apples of cheeks and a little on eyelids.
Brush on a little bronzer (layering like this will give your colors some extra staying power).
Minute THREE:
Apply one coat of mascara (since we aren't using eyeliner, I will often use black, but if you want a softer look you could certainly do brown, especially if you have fair hair coloring).
If necessary, brush a little clear mascara on eyebrows (just enough to tame).
Swipe on some pretty, sheer lip gloss and you are set to go!
That's it! Hope this helps you get out the door feeling just a little primped and pretty.
What are your secrets to looking put together on limited time?