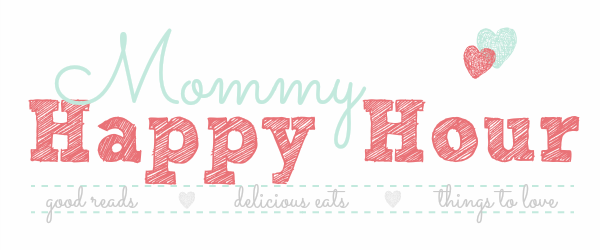 Hello weekend! Hope you all are having as glorious weather as we are in NYC. It's pretty crazy how cool it is here, I even needed a jacket yesterday. Totally bizarre for August, but it certainly makes running around the city a little more enjoyable when you aren't melting with each step. Rylan has finally adjusted to having just one nap a day, so we are now free to roam all morning long. You forget how nice it is not to have to rush home for naps. So far we've been to the zoo, a new playground, out for breakfast, and we actually got to use up the whole 2 hour allotment for childcare at the gym! I'm a big fan of that last one.
So here's what we've been reading, eating, and loving this week: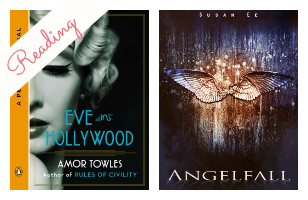 Eve in Hollywood by Amor Towles (Only $2.99 on Amazon). This short novella was our book club pick for the month. It follows one of the characters from Rules of Civility through a series of interactions with rather unique individuals in Old Hollywood. If you've never read Rules, then this is probably a pass for you. It's full of the glitz and glamour of Old Hollywood, but it's just a collection of stories that don't necessarily have a point rather than adding to the portrait of their heroine, Eve. If you did read and love Rules, like so many others, than this would be a quick and entertaining read. My full review is HERE.
Angelfall by Susan Ee. I'm working through a rather serious, thought provoking book right now, and needed a break with something fun and entertaining. So naturally, I reached for a YA book full of angels and end of the world drama. This was exactly what I was in the mood for, with hardly an idle moment in the story and a building, forbidden romance (it is YA all the way, so there is no hanky panky whatsoever). I felt like I was watching a movie rather than reading, which is a telltale sign of a good YA novel in my opinion. My full review is HERE.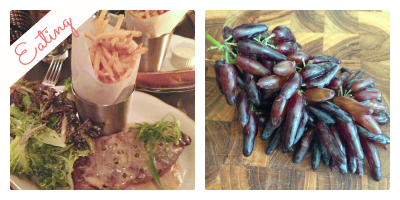 Montmarte. This cute French bistro was the site of our book club meeting this week. It has a gorgeous garden area that was unfortunately closed up do to the rain, but would be the perfect romantic spot on a nice day. The food is an interesting fusion between classic French dishes and Asian flavors. The highlight of our meal was most definitely the french fries. They were amazing. Not only were they thin and crisp, but they were topped with this delicious mixture of salt, sugar, and mustard powder. Hands down the best fries I've ever had in NYC, and I've had a lot of fries over the years!
Witch Fingers Grapes. These grapes have such a cool shape. They taste like regular red grapes, but are long and skinny. I especially liked that they didn't have to be cut in half before the kids could eat them. When I was buying these, I also randomly picked up some Cotton Candy Grapes, which are officially my new favorite fruit. They look like regular green grapes but taste just like cotton candy. I can't stop eating them, and you should definitely try some if every given the chance.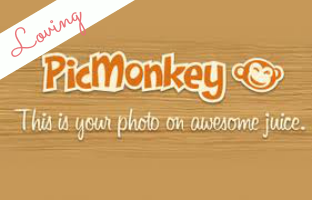 PicMonkey. I LOVE PicMonkey. This is the easiest and best photo editing program I've ever used. I'm not a professional by any means, but PicMonkey makes turning your photos into something special doable for even the most inartistic of us all. I use it for 90% of my graphics and pictures on this blog, and love the huge selection of options. PickMonkey has a basic option that is free, that would be totally sufficient for most purposes. I used that for months before upgrading to the paid version, which I don't necessarily even need for most of my editing. You could use this to make really cute computer backgrounds, awesome Facebook profiles, personalized gift tags – the options are endless. Something Swanky has tons of great tutorials that can get you started.
So what about you – do you read multiple books at once? try any new and fun foods this summer?