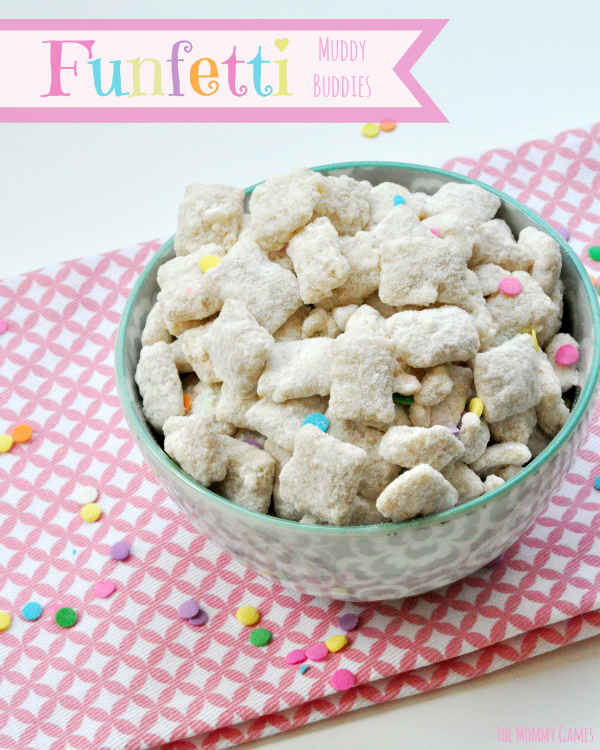 Although I'm not exactly sure what classifies as a "funfetti" flavor, I sure know that I love it! Maybe it's the sprinkles that give it that extra sweet and fun punch. Do you remember way back when instead of being in sprinkle form, there were little sprinkle type balls? Those were amazing and I wish would make a reappearance on the boxed cake mix scene. I'm certainly not above busting out some boxed mix to make a quick batch of cupcakes or even a last minute birthday cake. I say, as long as it tastes good, than there's no matter whether it took me an extra 30 minutes to make or not. Just hide the evidence and no one will be the wiser.
These muddy buddies (or Chex snack mix/puppy chow) are the sweetest, cutest snack around. They would be perfect set out at a party, since it's easy to make a large bowl full and are so fun for guests to eat. Scatter some extra sprinkles around and I guarantee that bowl will be empty before you even get around to serving cake. I might need to include a warning that they are super sweet – so if you find yourself alone with said huge bowl, try and utilize a  little self control, or you might just find yourself with one heck of a tummy ache (not that I would know from experience…).  The greatest part is that these are ready in no time, with only a little microwaving and stirring involved, so you'll be party ready in no time.
Funfetti Muddy Buddies
Adapted from Six Sisters' Stuff —-> don't you want to just eat everything on their site?!
1 tsp vegetable shortening
10-oz. vanilla flavored almond bark
5 cups Chex cereal
1 T sprinkles
1 1/2 cups Funfetti cake mix
1/2 cup powdered sugar
Place shortening and almond bark in microwave safe bowl, then cook in microwave according to package directions. Stir.
Pour cereal into a large bowl, the pour melted almond bark on top. Gently stir to coat.
Gently stir in sprinkles, cake mix, and powdered sugar to coat, then pour cereal out on to wax paper and allow to dry.