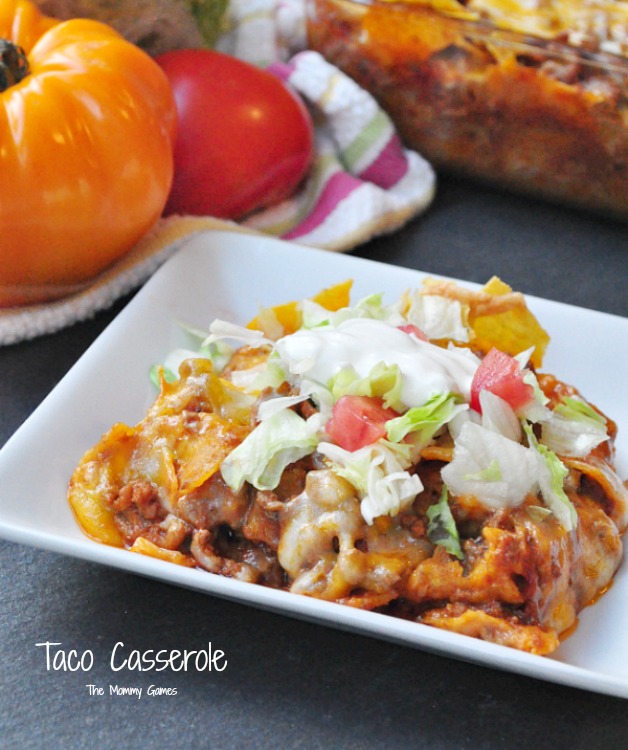 I've forever loved Mexican food. The cheese dip, guacamole, salty chips, piles of sour cream – YUM! I would be pretty happy eating it every day, and we rarely go a week without having some kind of Mexican dish. Taco night is most certainly a favorite since the kids can either mix everything up into one big taco of their choosing (half of which inevitably ends up on the floor), or divvy it out into separate little sections. It's amazing what giving the littles some interpretive room can do for their appetites.
It's nice to switch it up every once in a while though, and this awesome taco casserole is just the way to do it. It gives you all that satisfying taco flavor in one easy dish. Just bring this over to the table along with a few bowls of toppings and let your family have at it. This was an instant hit in our house and has been added to the few dishes we rotate regularly. You will love how simple and delicious it is!
Taco Casserole
Adapted from The Recipe Critic
cooking spray
1 lb. ground beef
1/2 onion, diced
1 14.5-oz. can tomato soup
1 1/2 cups water
1 package taco seasoning
1 bag tortilla chips, broken up into large pieces (I just do this by hand)
2 cups grated cheddar and jack cheeses (or Mexican blend)
optional toppings: shredded lettuce, sour cream, beans, or any of your favorite taco fixings
Coat an 8-inch square baking dish with cooking spray and set aside.
Pre-heat oven to 350°F.
In a non-stick pan over medium-high heat, brown ground beef and onion.
When beef is cooked through, add tomato soup, taco seasoning, and water. Bring mixture to a boil, then reduce to simmer fro 5-10 minutes.
To assemble casserole, cover bottom of baking dish in broken tortilla chips, then 1/3 of the hamburger mix, then 1/3 of cheese.
Repeat until you have 3 layers, ending in cheese.
Bake for 15 minutes.
Serve with choice of toppings.