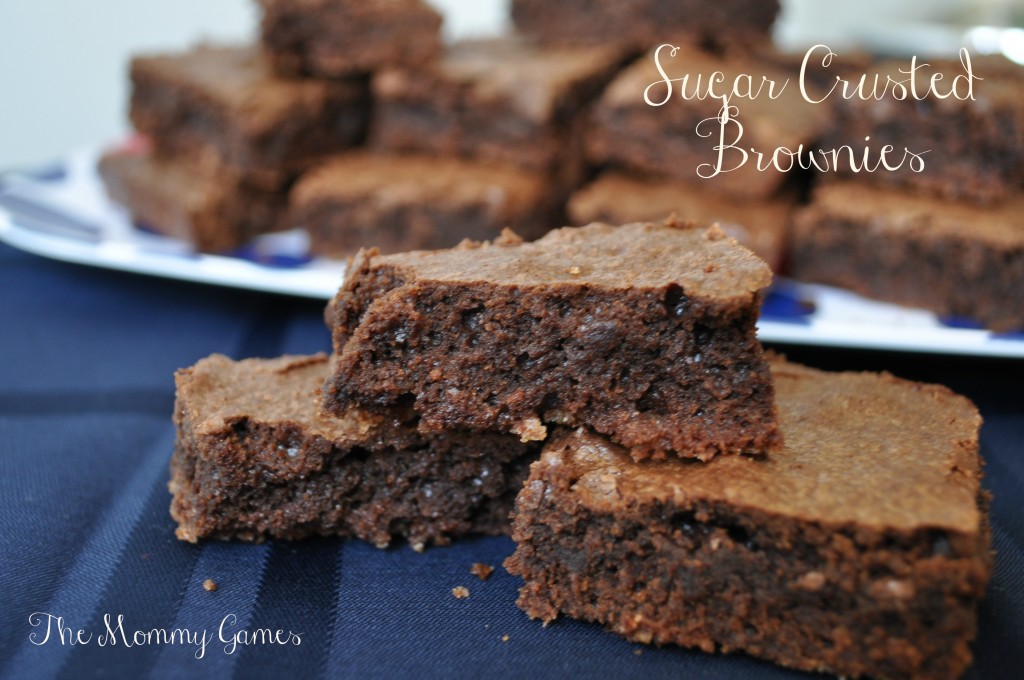 These brownies are the perfect thing to bring or serve at a cocktail or dessert party. They meet all the criteria necessary for appropriate cocktail party eats:
Can be eaten with one hand – check!
Not messy – fudgey & rich, but no napkin necessary
Approachable, but a little more special than the usual – the extra sugar topping gives them an edge on your everyday brownie
Ample servings – this recipe makes a whole sheet pan worth of treats
The key is to use really good quality chocolate and not to over bake them. They are sure to be a hit!
Sugar-Crusted Cocktail Party Brownies
3 sticks unsalted butter, plus more for pan
3 1/2 cups sugar
8-ounces unsweetened chocolate (99% cacao – the higher the quality, the better)
6 large eggs
2 tsp vanilla extract
2 cups flour
Preheat oven to 350°F.
Butter a 12 x 17 inch jelly-roll pan, then evenly dust with 4 T of sugar.
Heat chocolate and butter in a medium saucepan over low heat until melted, stirring occasionally.
Remove from heat and allow to cool.
Beat eggs and remaining sugar in a large bowl until blended but not frothy.
Stir in vanilla and, when no longer hot, the chocolate mixture.
Stir in flour.
Spread into prepared pan and bake for 30 minutes, or until a toothpick inserted in the middle with come out clean.
Allow to cool before cutting.