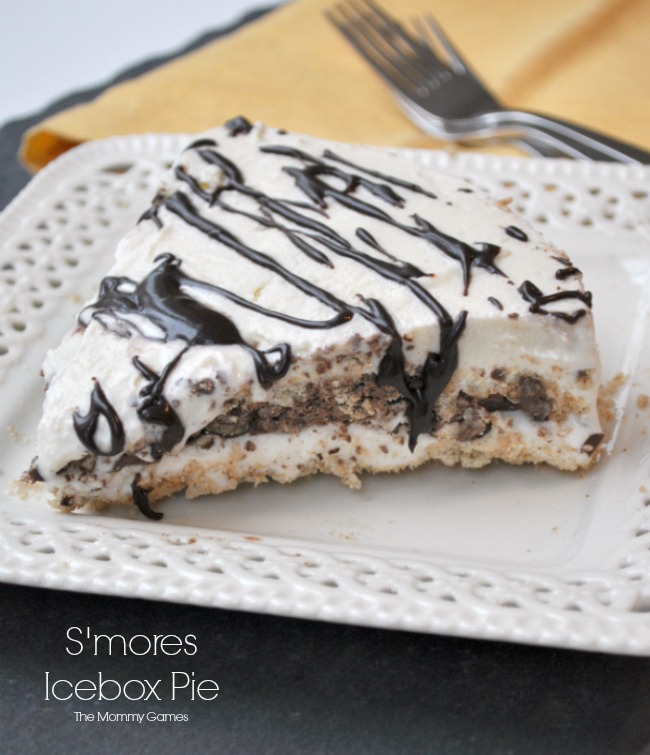 Is there any more quintessential summertime dessert than s'mores? Just type "s'mores" into Pinterest and you will be privy to a variety of desserts that have all gotten their inspiration from this much loved classic. There's just something about the whole graham cracker, gooey marshmallow, and chocolate combo that wins over adults and children alike. This pie combines all of that, with the addition of ice cream. In my book, everything is better with a little ice cream. This took no more than 10 minutes to put together and there's no actual cooking involved, just a little microwaving and assembly. This was such a light and refreshing dessert, with just a hint of decadence from the chocolate and marshmallow layers. A great spin on a classic, and one I know your family will love.
S'mores Icebox Pie
2 pints vanilla ice cream, slightly softened.
3 cups graham cracker crumbs, divided (place crackers in a ziplock and smash with a rolling pin until they form dime size pieces)
7 oz. milk chocolate
5 oz. marshmallows
1/4 cup milk
chocolate sauce, for serving
Line a 9-inch round cake pan with plastic wrap, so that excess hangs over the sides.

Place ice cream into a bowl and use a wooden spoon to stir until it is softened, then pour into pan.
Scatter 1 1/2 cups graham cracker crumbs over top.
Place chocolate in a microwave safe bowl and heat until melted, stirring every 30 seconds.
Pour melted chocolate over top of graham crackers.**
In another microwave safe bowl, place marshmallows and microwave and heat for 30-40 seconds on high.
Stir milk into marshmallows and spread this layer over top of the chocolate.
Top with remaining 1 1/2 cups graham cracker crumbs and cover in plastic wrap.
Place in the freezer for at least 6 hours, then turn the cake pan upside down over a plate and use the excess plastic wrap to remove cake onto the plate.
Serve with a drizzle of chocolate sauce.
**When chocolate is frozen, it will become quite hard, and might not be suitable for very small children. Feel free to omit this step and just ad the chocolate as a topping when serving.