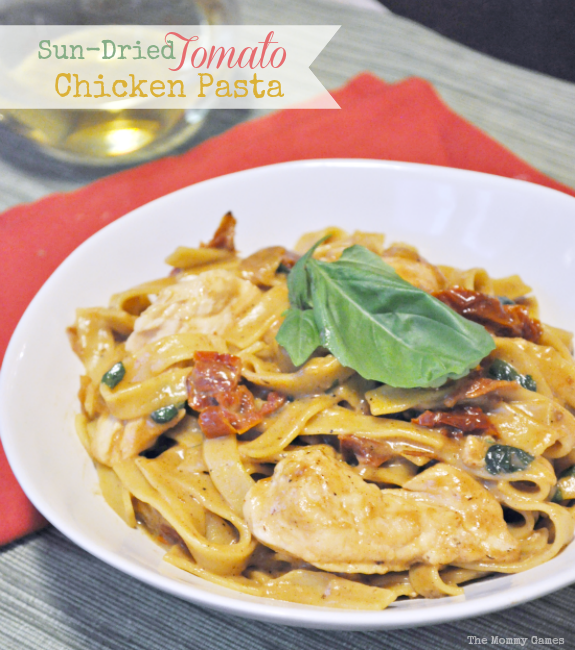 I seriously love Pinterest. I mean I just love it. I could easily spend hours searching through crafts I'll never make, impressive recipes I'll never try, and clothes I'll never wear. Oh, if only my real life reflected the one I lead on Pinterest. Occasionally I give myself a good swift kick in the pants, and commit to actually creating one of these "pinned" items that I was so eager to tuck away for later. Because truthfully, sometimes these amazing gems are forgotten as soon as they are filed away. After finding a recipe for sun-dried tomato chicken, then following it to the blog who created it, I knew this would be a perfect weeknight meal. And seriously, it's pretty freakin' fabulous. Everyone, picky kids included, gobbled this up. It's creamy and rich, with a slight tang from the sun-dried tomatoes. This is the kind of meal that anyone would be happy with at the end of a long day.
See, making your Pinterest dream life a reality isn't so hard after all. Now, on to the other 872 things I have pinned…
Sun-Dried Tomato Chicken Pasta
Adapted from Little B. Cooks
12-oz. medium wide egg noodles
2 T olive oil
1 1/2 lbs. skinless boneless chicken tenders
salt & pepper
1 T butter
1/2 onion, chopped
2 garlic cloves, minced
5-oz. sun-dried tomatoes, chopped
2 T flour
1 1/2 cups chicken stock
1/4 cup white wine
1/2 cup cream
1/4 cup basil leaves, chopped, plus more for garnish
Bring a large pot of salted water to a boil and cook egg noodles according to package directions. Drain and set aside.
Meanwhile, heat oil over medium-high heat in a large skillet.
Sprinkle salt & pepper over chicken, then add to the pan and cook through (about 5 minutes per side). Remove from pan and set aside.
Add butter to the pan, then onion and garlic and cook for about 3 minutes, or until onion is softened and slightly translucent.
Add sun-dried tomatoes.
Stir in flour and whisk constantly for 2 minutes.
Whisk in chicken stock and wine, and cook for another 2 minutes.
Whisk in cream and cook through for another couple minutes until sauce has thickened.
Stir in basil and chicken, then pasta to heat through.
Garnish with basil before serving.