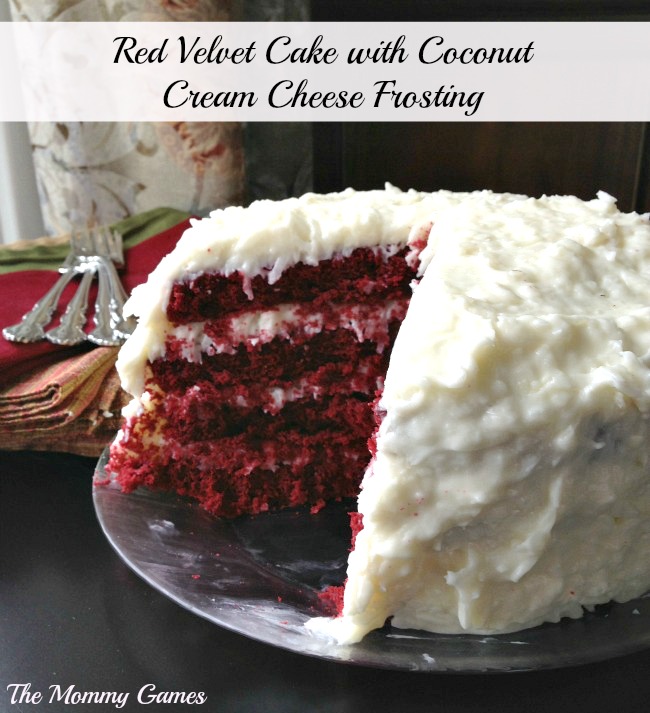 It's almost February and Valentines is right around the corner. Although it is arguably the cheesiest holiday around, it's fun being a girl on Valentines. If you are in a relationship you can rightfully expect to get pampered. And if you are single you can rightfully expect to get bombed with your other single girlfriends – who needs men?! But we can all expect to ride a sugar high for most of the day.
My mom made this amazing cake when we were home for the holidays, and I knew I absolutely must share it with all of you. It was so incredibly good! My brother recently got married, and the woman who made his rehearsal dinner cake told us the secret to her super moist cake was to freeze them beforehand. When they are defrosted, all that moisture goes back into the cake, making it one of the most tender and moist cakes you will ever eat (how-to details in recipe below). My mom did just that with this beautiful layer cake and the result was amazing. You have to try it for yourself! And the frosting is beyond delicious. Like, you should make extra. Tempted to throw in a comment about what to do with said frosting on this romantic holiday, but this is a G-rated show here at The Mommy Games. Thanks Mom for sharing this recipe and for letting me be a very diligent taste tester!
Red Velvet Cake with Coconut Cream Cheese Frosting
Adapted from Southern Living and made by my mom
CAKE:
3/4 cup butter, softened
2 cups sugar
3 large eggs
3 Tbsp. red liquid food coloring
1 Tbsp. vanilla extract
2 3/4 cups all-purpose flour
1/2 cup unsweetened cocoa
1 Tbsp. baking powder
3/4 tsp. baking soda
1/4 tsp. salt
1 1/2 cups buttermilk
FROSTING:
2 – 8oz. packages cream cheese, softened
1 cup butter, softened
1/2 tsp. coconut extract
8 cups powdered sugar
4 cups sweetened shredded coconut
CAKE:
Preheat over to 350 degrees.
Using a mixer, beat butter until light and fluffy.
Gradually add sugar, beating until blended.
Beat in eggs, one at a time.
Mix in food coloring and vanilla.
In a separate bowl, whisk together flour, cocoa, baking powder, baking soda, and salt.
Gradually add flour mixture to butter mixture, alternating with the buttermilk, beating at a low speed just until incorporated.
Spoon batter into 4 greased and floured 8-inch round cake pans ( can use 8-inch aluminum foil disposable pans if needed, just place them on a baking sheet for stability).
Bake, with 2 pans on top rack and 2 pans on bottom rack, at 350 for 10 minutes; rotate pans, and bake an additional 10-12 minutes or until a toothpick inserted in center comes out clean.
Allow to cool in pans on wire racks for 10 minutes.
Remove cakes from pans to wire racks, and cool completely. ***
Spread about 1 cup Coconut-Cream Cheese Foresting between cake layers; spread remaining frosting on top and sides of cake.
*** Secret to moist cake:  Remove from pans and wrap each layer in plastic wrap and then in aluminum foil.  Place in freezer for 1-30 days.  Allow to thaw in wrapping.
FROSTING:
Beat cream cheese and butter at medium speed until smooth.
Mix in coconut extract.
Gradually add powdered sugar, beating until smooth.
Stir in shredded coconut.