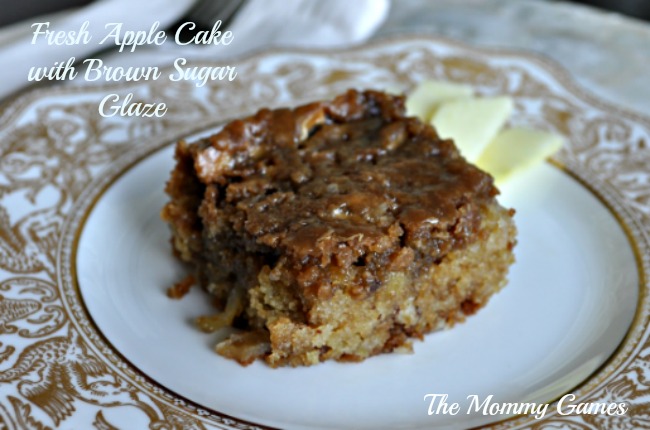 I love apple desserts. They are just so homey and comforting. This is a great cake to make for the holidays because it's super versatile. It would be a great snack for unexpected guest, a fabulous dessert with a dollop of whipped cream, or a sweet breakfast when the urge strikes. The batter is super thick, almost like dough, so when it bakes up it's super moist and will stay that way for days. The addition of the glaze give it an extra special kick. And it makes full 13 x 9 in. pan's worth, so you can feed a lot of people with minimal effort.
I'm having so much fun looking at all the scrumptious holiday recipes online, I don't think there will be enough time to make it all! What is on your "Must Make" list for the holidays?
Fresh Apple Cake with Brown Sugar Glaze
Adapted from Southern Cakes
Apple Cake:
3 cups flour
2 cups sugar
1 tsp baking soda
1 tsp salt
3 eggs
1 1/2 cups vegetable oil
2 tsp vanilla extract
3 cups finely chopped apples
1 cup pecans, chopped
Preheat oven to 350°F and grease a 13 x 9 in. pan.
Stir together the flour, sugar, baking soda, and salt in a medium bowl.
Beat the eggs with a mixer until pale yellow and foamy, then add in the oil and vanilla.
Gradually stir in the flour mixture with a wooden spoon, just until combined.
Stir in the apples and the nuts, then pour batter into the prepared pan.
Bake for 45 – 50 minutes, or until the cake is golden brown and is beginning to pull away from the sides.
Place on a wire rack. Apply glaze while cake is still hot.
Brown Sugar Glaze:
1 cup light brown sugar
1/3 cup butter
1 tsp vanilla extract
2 T cream
Combine all ingredients in a saucepan over medium heat, stirring often.
Cook until the mixture comes to a gentle boil, 3 – 5 minutes.
Spoon the glaze on top of the hot cake.
Let glaze cool completely before serving.