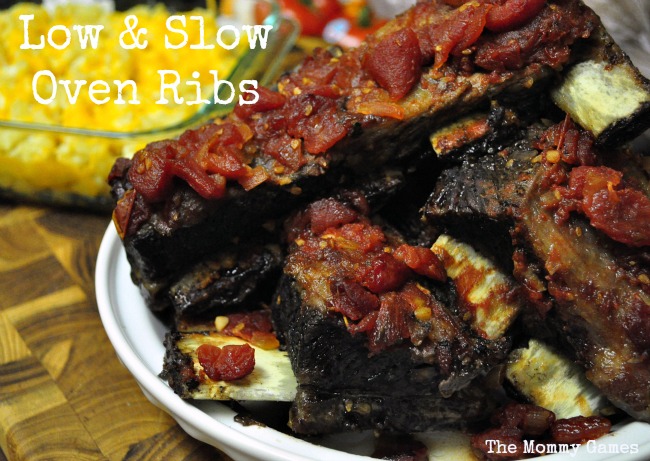 Please forgive me for the ugly picture. I just had to share these with you because they are awesomely delicious – bad picture be darned! I have a long going love for meat that can be thrown into the oven, forgotten about for a few hours, then popped out right at dinner time. I love the scrumptious smell that fills the house and gives off this impression that I'm working harder in the kitchen than I really am. Really, I'm cruising Gilt and ordering a bunch of cute shoes that I don't really need, but don't tell my husband that. These have a sort of sweet and sour Asian style thing going. A really unique, easy, and delicious rib recipe to add to your collection. These would be perfect for football watching!
Low & Slow Oven Ribs
Adapted from Screen Doors and Sweet Tea
2 14.5-oz. cans diced tomatoes, with juice
1/4 cup sweet onion, minced
2 garlic cloves, minced
1/2 tsp red pepper flakes
1/2 cup maple syrup
2 T soy sauce
2 T tomato relish, such as Mrs. Renfro's
4 bay leaves
4 lbs country-style pork ribs
salt & pepper
Preheat oven to 300°F.
In a small saucepan over low heat, combine tomatoes, onion, garlic, and red pepper flakes.
Simmer for 15 minutes, until reduced by half.
Stir in maple syrup, soy sauce, and tomato relish.
Line a 9 x 13-inch baking dish with foil and place the bay leaves at the bottom.
Place ribs in baking dish and season with salt & pepper.
Pour half of tomato sauce on top of ribs, turning a few times to coat, then cover tightly with foil.
Cover and refrigerate remaining sauce.
Bake ribs for 3 hours, remove foil, pour over remaining sauce, and continue baking for 1 hour longer.
Transfer ribs to a platter and let stand for 15 minutes.
Tilt the baking dish and spoon off any excess fat.
Pour defatted pan sauce over ribs (remove bay leaves) and serve.