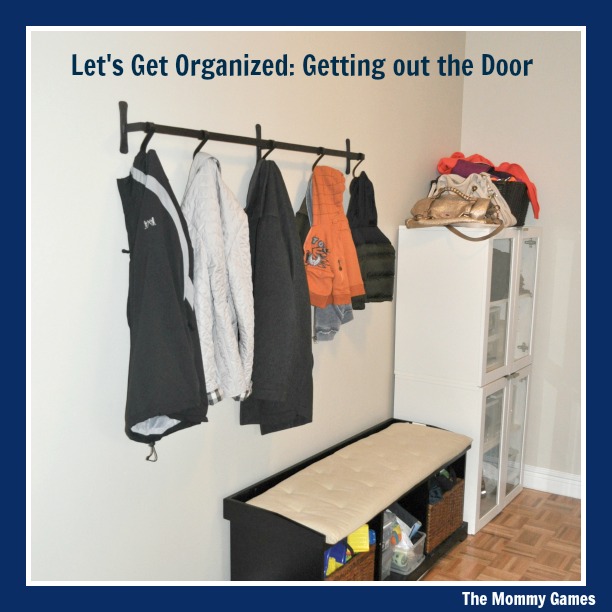 I think most moms find the process of actually getting themselves and their children out the door a difficult one. It's no easy feat getting little ones dressed and slathered in sunscreen, making sure you have everything you need, and getting out the door on time. We recently moved, and in our new place I developed a sort of "going-out" station. Right by our door we literally have everything we need to make our daily trips to school, the playground, or work. It's made our mornings so much easier.
Here's what's in our Going Out Station:
Coat Hooks – Every family member has their own hook for frequently used outerwear. I usually keep the baby's bjorn on his as well.
Bench – Having a place to sit, or sit the kids on while I put on their shoes, has been really awesome.
Diaper Bag Necessities – In a small bin, I keep diapers, wipes, hand wipes, extra sippy cups, snacks, etc. Essentially anything I would normally keep in the diaper bag. This way if I realize I'm out of something I'm not running through the house trying to grab things at the last minute.
Accessory Bins – A few small bins to keep everyone's hats, gloves, sunglasses, etc., each labeled by person for easy finding.
Outdoor Toys – Sidewalk chalk, balls, sand toys, etc. Makes for easy grab and go on the way to the playground.
Dog Accessories – One basket has Suki's leash, plastic bags, and outdoor toys.
Running Gear – All of our running shoes, jackets, headphones, etc. get kept separately so as not to stink up everything else.
Shoes – We don't wear shoes in the house, so we have one plastic tray that everyone keeps their most regularly used shoes on. Off to the side, I have 2 larger pull-out bins, one of which I keep all the kids shoes in (since they don't have that many), and another in which I keep most of my flats, since that's what I wear on a daily basis.
Small Miscellaneous Necessities – A small container for keys, wallets, sunscreen, etc.
Purses – I will usually keep a few large daytime purses and diaper bags nearby for easy switching.
Small Toys – There is one small container of some random toys that can easily be brought to a restaurant or doctor's office. This has also come in handy when one of the kids needs to hang out in the stroller for a few minutes while I get the other one ready.
How do you make getting out the door easier?