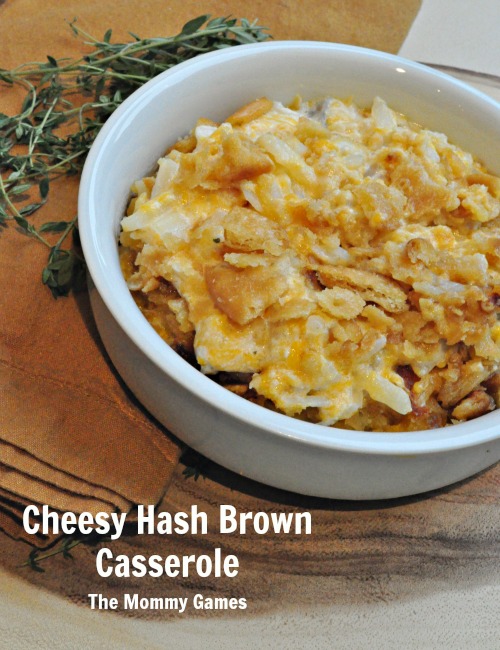 I have a heck of a recipe to share with you! This hash brown casserole is pure comfort food. I mean seriously, I could not stop eating it. It's cheesy and smooth, with just the right amount of crunch from the buttery cracker topping. YUM! When I was at the grocery store loading a few bags of these frozen shredded potatoes in my cart, some well meaning woman stopped me and told me that I really should buy something else. She claimed that she had bought them for her kids and they were awful and totally tasteless. I asked what she had added to them and she said "nothing." I told her not to worry, that I would be adding  more than enough goodness to them to make them tasty. I think this woman (who possibly would have blown away with a strong breeze) was more than a little taken aback when I described what I was making.

All things in moderation, my friends. These are definitely not diet friendly, but I think they are more than worth the splurge every once in a while. You could serve these up for breakfast (they would be amazing for a brunch) or as a side with dinner. Or you could be like me, and reheat the leftovers for every single meal for the next 2 days. Just don't tell your trainer.
Hash Brown Casserole
Adapted from Georgia Cooking in an Oklahoma Kitchen
16-ounces frozen shredded potatoes, defrosted
2 cups sour cream
8-ounces Cheddar & Monterey Jack cheese, shredded
1 10-ounce can cream of mushroom soup
1/2 small onion, finely chopped
1 tsp salt
1/2 tsp pepper
2 cups Ritz crackers, crushed
1/2 cup (1 stick) butter, melted
Preheat oven to 350°F and grease a 9 x 13 casserole dish.

Combine first 7 ingredients in a bowl and place in casserole dish.
Sprinkle with crushed crackers and pour the butter over top.
Cover with foil and bake for 45 minutes, then uncover and bake for 15-20 minutes more, or until lightly browned.