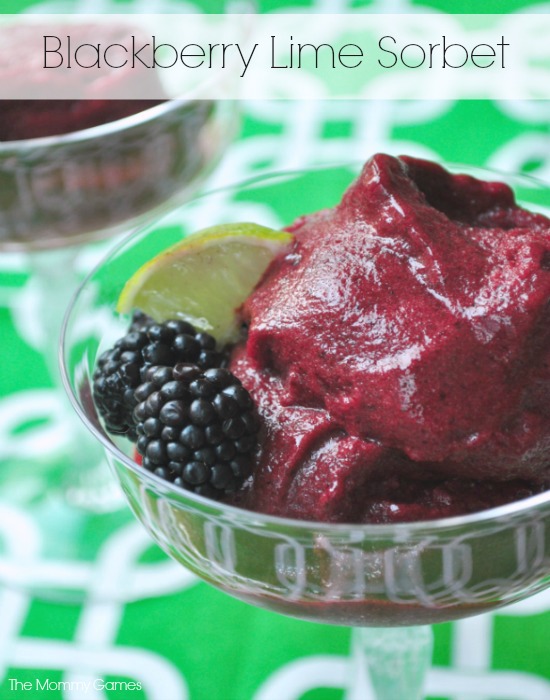 I have a confession to make….I pretty much hate doing anything artsy with my kids. Yep, play-doh, painting, markers – I could live a happy life without any of it. Every time I get brave and bust out the arts and crafts, we end up with spilled paint, crayons in the mouth (repeatedly), stickers stuck to the floor, and a very stressed out momma. My type-A tendencies just can't handle it. Thankfully, what the kids miss in the arts department, we more than make up for with our culinary adventures. For some reason making a mess in the kitchen is so much easier to handle. Like the kitchen is meant for messes (not to mention, everything is at least somewhat wipeable).
There are still days when I really don't want to deal with spilled flour and sticky floors though, and on those days, we make sorbet. Sorbet is the perfect thing to make with your littles because there is little mess involved, and a lot of cool gadgets. Just make the simple syrup during nap time, so that way all you're doing is a little blending (do your kids love to push the buttons as much as mine?), straining, waiting (admittedly, the hardest part, but I consider this a teachable moment about patience), and the most fun – watching the ice cream maker turn our bright purple liquid into a frosty treat. It's like magic in their kiddo eyes.  So go ahead and try making this super refreshing, and very pretty sorbet with your kids. If I, in all my neat-freakness can handle it, then I'm sure you can too.
Blackberry Lime Sorbet
Adapted from The Perfect Scoop
3/4 cup sugar
3/4 cup water
4 cups blackberries, fresh or frozen
1/2 cup lime juice (about 5 limes)
Combine sugar and water in a small saucepan, and bring to a boil, stirring until sugar totally dissolves. Set aside to cool.

Puree the blackberries and sugar syrup in a blender, then pour through a fine mesh strainer to remove any seeds.
Stir in lime juice and place in refrigerator to chill completely.
Once chilled, freeze in ice cream machine according to the manufacturer's instructions (mine takes about 25 minutes).