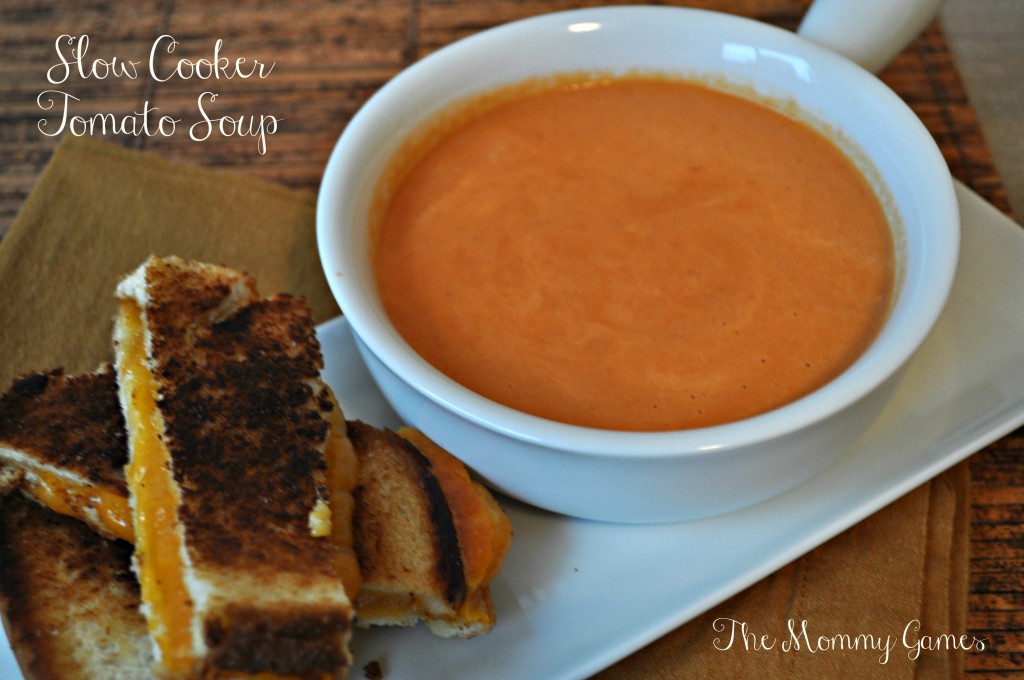 There's not much that can beat a warm bowl of tomato soup and gooey grilled cheese. And this recipe is a real winner. It's super flavorful and rich, but with just a touch of cream. I actually think this would be the perfect meal to feed your kids before a night of trick-or-treating. Give them something filling and nutritious to offset all that sugar! Using Halloween inspired cookie cutters to cut out the grilled cheese is sure to make it a hit with the little ones. Brandon (my toddler) absolutely devoured this – a rare occurrence that nearly warrants a parade.
We hope everyone in the northeast stays safe against Sandy. We are crossing our fingers that it is through NYC by Wednesday so as not to ruin the fun! I also don't know how many days you can keep two kids inside without losing your mind…pray for me.

Slow Cooker Tomato Soup
Adapted from Slow Cooker Revolution
2 T unsalted butter
3 (14.5 ounce) cans diced tomatoes, drained w/ juice reserved
1 onion minced
1 T brown sugar
1 T tomato paste
salt & pepper
2 T flour
3 cups low-sodium chicken broth
2 bay leaves
1/2 cup heavy cream
pinch of cayenne (optional)
Melt butter in a medium skillet over medium-high heat.*
Add tomatoes, onion, sugar, tomato paste, and 1/2 tsp. salt and cook until tomatoes are dry and lightly browned, 8-10 minutes.
Stir in flour and cook for 1 minute.
Stir in 1 cup of broth, scrapping up any browned bits on the bottom, then transfer to slow cooker.
Stir in remaining broth, reserved tomato juice, and bay leaves.
Cook for 4-6 hours on low.
Remove bay leaves, then puree soup in a blender in batches (do no fill all the way, and make sure to cover lid with a kitchen towel).
Pour pureed soup, cream, and cayenne into a large sauce pan,* and cook over medium-low until heated through.
Season with salt and pepper.
*Alternatively, use slow cooker insert if stove top safe.