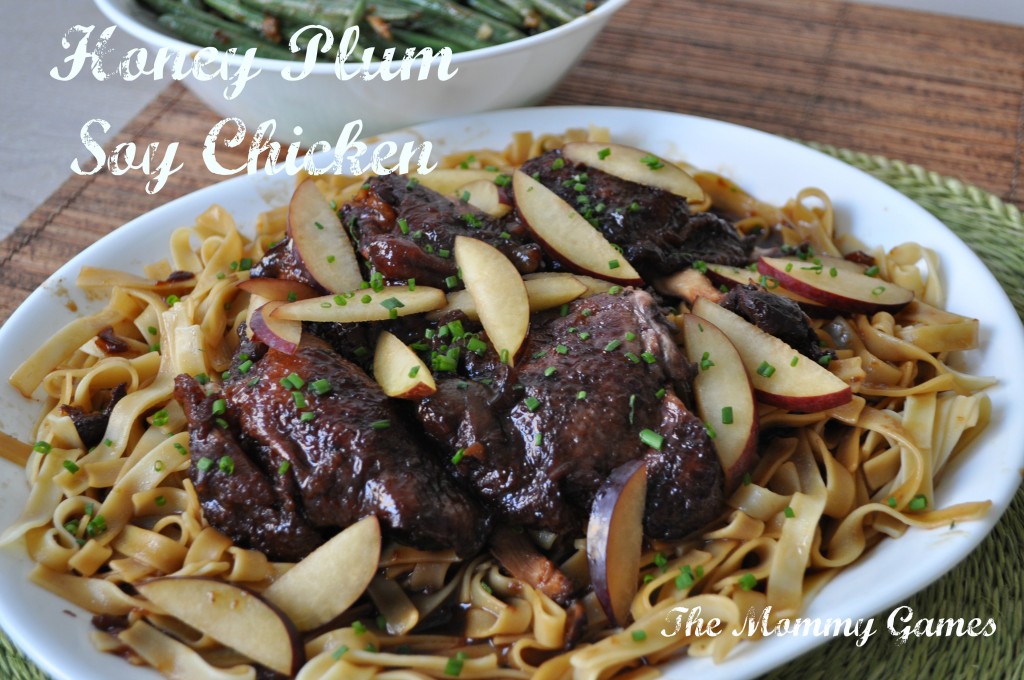 When I first met my husband, the only things he had in his fridge were beer, ketchup, and a large bottle of soy sauce. I'm sure he wasn't the only bachelor to live this way, but I would like to think his culinary requirements have expanded since marrying me. Although we try and stay away from super salty dishes, I couldn't resist trying this knowing that Brad would absolutely love it. I mean the recipe calls for an entire bottle of soy sauce. It practically had his name written on it, and I do aim to please every once in a while. I did knock the soy sauce down to about half (I just couldn't bring myself to do the whole thing), and I can't imagine it could have been more delicious. An easy and elegant meal for the soy sauce lover in your life.
Honey Plum Soy Chicken
Adapted from The Pioneer Woman Cooks —> you need this cookbook in your life
8 bone-in, skin-on chicken thighs
3 cups red wine, divided (something you would actually drink)
3 bay leaves
1 13-ounce jar plum preserves
1 cup honey
10-ounces soy sauce
2 T olive oil
4 garlic cloves, minced
5 plums – 4 pitted and chopped, 1 thinly sliced
12 ounces egg noodles
3 green onions, sliced
Marinate the chicken thighs with 2 cups red wine and bay leaves for 1 hour in the fridge.
In a bowl, whisk together the preserves, honey, and soy sauce and set aside.
Remove chicken from marinade, and place both sides on a paper towel to absorb excess liquid.
Heat oil in a large pot over medium-high heat and brown the chicken on both sides (about 2 minutes per side).
Reduce heat to medium-low, add garlic and cook for 2 minutes.
Add the remaining cup of wine, chopped plums, and soy sauce mixture.
Bring to a boil, reduce heat to a simmer, and cover and cook for 1 1/2 – 2 hours (chicken should be falling off the bone).
Cook noodles according to package directions, and put on a large plate.
Place the chicken and a good portion of the cooking liquid (half at least) on top of the noodles.
Top with sliced plums and green onions, and serve with extra cooking liquid.