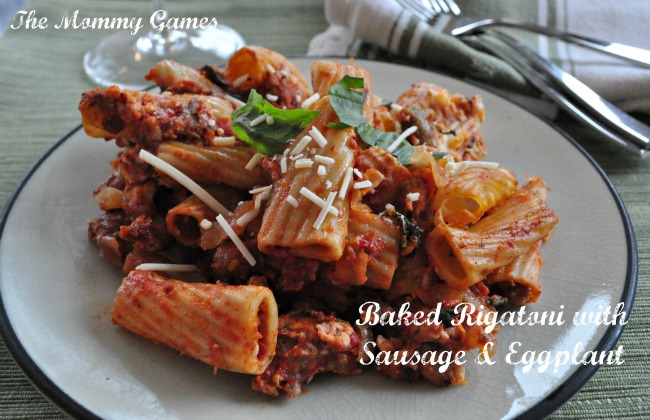 This is the kind of meal you need in your life. Just the kind of thing you want to eat when it's chilly outside. Earmark this one for when you are all turkeyed out in a few weeks, but still want something warm and satisfying. Feel free to use whatever kind of sausage you like – spicy if that's your style, but in our house we stick with sweet Italian to appease the younger appetites (and we tend to be wimps where spice is concerned). The leftovers will be perfect to stick in your freezer or share with your (sure to be very appreciative) neighbors!
Baked Rigatoni with Sausage & Eggplant
Adapted from Tyler's Ultimate
extra virgin olive oil
1 lb. Italian pork sausage meat (sweet, spicy or combination)
1 large eggplant, cut into 1-inch pieces
salt
1 onion, chopped
3 garlic cloves, chopped
1 28-ounce can crushed tomatoes
10-15 fresh basil leaves, roughly chopped
1 lb. rigatoni
1 lb. fresh mozzarella, grated
pepper
1 cup Parmigiano-Reggiano cheese, grated
Preheat oven to 450°F.
Add 2T of oil to a large skillet over medium-high heat, then add sausage meat & break up until cooked through.
Remove sausage with a slotted spoon and place in a 9 x 13-in. baking dish.
Turn heat down to medium, add 1/3 cup of oil to pan and add eggplant in a single layer (may have to cook in batches), sprinkle with salt,  & cook for 7-8 minutes until eggplant is browned and tender on the inside.
Removed eggplant with a slotted spoon and place in baking dish.
Add 2T of oil to the pan, onion, and garlic and cook for about 4 minutes, until onions are translucent.
Add the tomatoes and basil to the pan and cook for about 15 minutes, until sauce has thickened.
Meanwhile, bring a large pot of salted water to a boil and cook pasta for 7 minutes, as it will continue cooking in the oven.
Reserve 1/2 cup of pasta water, then drain pasta and add to baking dish.
Add sauce, pasta water, half of the mozzarella, salt & pepper to the baking dish and stir to combine all components.
Top with remaining mozzarella, Parmigiano, and a drizzle of olive oil.
Bake for 25 minutes until golden brown and bubbling.