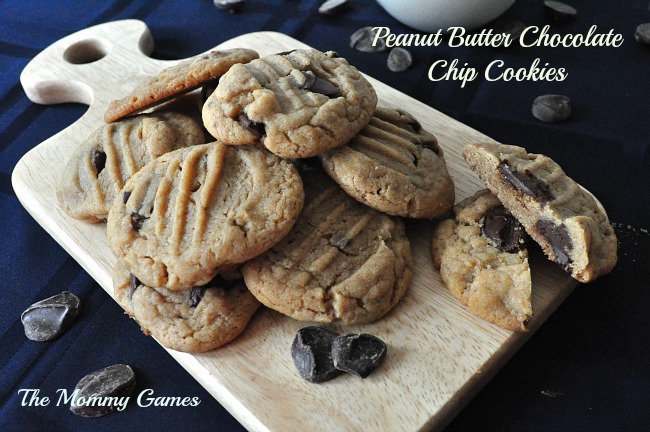 With the holidays quickly approaching, you undoubtedly will be inundated with lots of festive cookies. I love a good Christmas cookie as much as the next person, but I thought I would change it up a bit and instead give you my go-to cookie recipe. I have made these amazing peanut butter and chocolate chip cookies more times than I can count. Frequently, they're made post dinner when that hankering for something sinful sets in. There simply is no better cravings cure than chocolate and peanut butter. The trick, and this applies to almost every cookie out there, is not to over bake them. I'm sure you will love this recipe just as much as I do. And hey, the diet doesn't start until Jan. 1st anyways, right?
Peanut Butter Chocolate Chip Cookies
Adapted from Pink of Perfection, which she posted back in 2008, that's how long I've been making these!
1 1/4 cups flour
3/4 tsp. baking soda
1/2 tsp. baking powder
1/4 tsp. salt
1/2 cup butter, melted
1 cup creamy peanut butter
3/4 cup sugar
1/2 cup light brown sugar
1 egg
1 T milk
3/4 cup chocolate chips (I love Guittard Super Cookie Chips)
Preheat oven to 350°F.
Whisk together the flour, baking soda, baking powder, and salt in a medium bowl and set aside.
In the bowl of a stand mixer (or use a hand mixer) beat together the butter and peanut butter for a few minutes until light in color.
Continue to mix in both sugars and beat until smooth.
Beat in egg and milk.
With the mixer on low, gradually add dry ingredients, mixing just until combined.
Stir in the chocolate chips.
Place teaspoon size balls of dough on ungreased cookie sheets, then gently press each cookie with the back of a fork to slightly flatten.
Bake for 10-12 minutes.
Move to wire racks to cool.