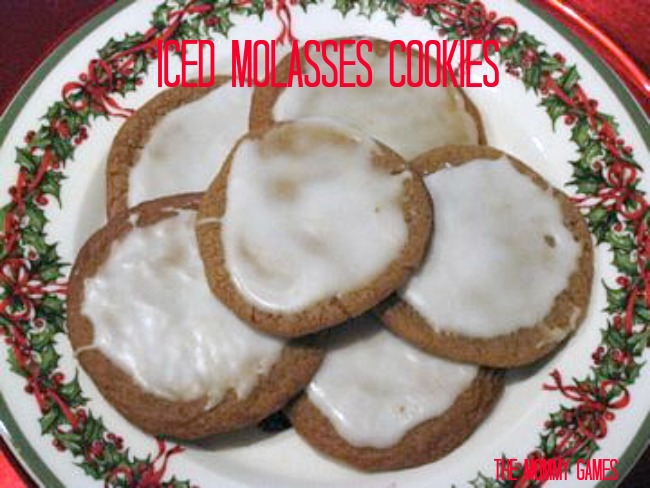 Originally posted on Culinary Wannabe – this is one of my favorites!
I have felt totally overwhelmed by the amount of holiday goodies floating around this apartment in recent weeks. My sweet mother bakes like a fiend this time of year, and always sends us a huge care package (or 2) so that we get to sample everything before we arrive down south. This is one of her classic Christmas cookie recipes (although she tends to make them whenever the urge strikes, not just at Christmas). The cookie is moist and lightly spiced, with a delicious and pretty icing glaze on top. And they are super easy – no rolling or cutting required. Perfect to give away to your friends and spread some holiday cheer!
Iced Molasses Cookies
Courtesy of My Momma – makes about 3 dozen
1 1/2 (12 Tlbs) sticks Sweet Butter, melted (if using salted version, omit additional salt)
1 cup granulated Sugar
1/4 cup Molasses (Grandma's Original Molasses recommended)
1 Egg
1 3/4 cup AP Flour
1/2 teaspoon ground Cloves
1/2 teaspoon ground Ginger
1 teaspoon ground Cinnamon
1/2 teaspoon Salt
1/2 teaspoon Baking Soda
1/4 cup Lemon Juice
3 cups Powdered Sugar
Preheat oven to 350℉ and line 2 baking sheets with foil.
Thoroughly mix together melted butter, sugar and molasses.
Lightly beat egg and add to the mixture; blend well.
Sift flour with spices, salt and baking soda, and add to mixture (batter will be wet).
Drop tablespoons of cookie batter on foil, leaving approx. 3 inches between cookies.
Bake just until they begin to darken; about 8-10 minutes.
Transfer cookies to cooling rack.
Using mixer, whisk together lemon juice and powdered sugar until a glossy icing is formed (may need more or less lemon juice, so add gradually).
When cookies have cooled completely, cover in icing; let dry on racks.