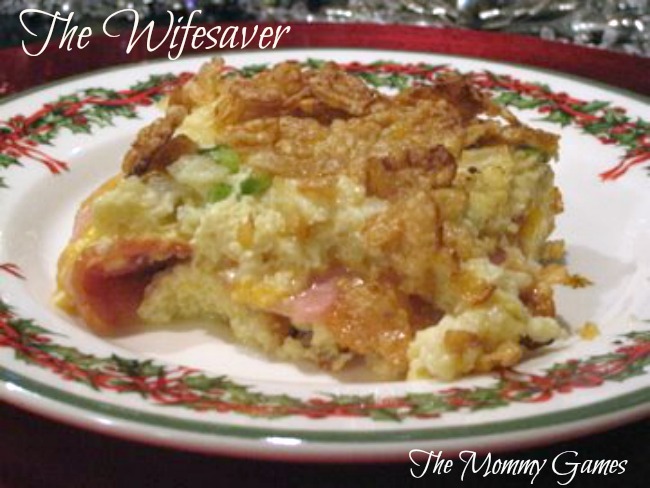 Originally posted on Culinary Wannabe – this is one of my favorites!
Need the perfect dish to serve Christmas morning? Look no further than the Wifesaver! This recipe is courtesy of my lovely mother-in-law, Terri. It is aptly named the Wifesaver because it can be conveniently prepared the night before, then baked up in the morning. It takes about an hour to bake – just enough time to open a few presents before you dig in. The casserole is hearty but not overly heavy. It has almost a quiche-like texture, combined with salty ham, sharp cheddar cheese and a crunchy cereal topping (the Special-K topping, though weird sounding, is awesome). Really delicious, and it makes Christmas morning a snap. Hope your family enjoys this as much as ours!
The Wifesaver
Courtesy of my mother-in-law, Terri
16 slices White Bread, crusts removed
1/2 lb. Canadian Back Bacon or Ham, thinly sliced
8 slices Sharp Cheddar Cheese
6 Eggs
1/2 tsp. Salt
1/2 tsp. Pepper
1 tsp. Dry Mustard
1/4 cup minced Onion
1/4 cup Green Pepper, finely chopped
1-2 tsp. Worcestershire Sauce
3 cups Whole Milk
dash Tabasco
1 stick of Butter, melted
approx. 3 cups Special K cereal
Butter a 9×13 in. glass baking dish.
Place 8 pieces of bread on bottom of dish and cover with slices of back bacon.
Place cheese slices on top of back bacon, then cover with remaining bread slices.
In a bowl, beat eggs, salt, pepper, dry mustard, onion, green pepper, Worcestershire sauce, milk and Tabasco.
Pour mixture over bread, cover and let stand overnight.
In morning, Pre-heat oven to 350℉.
Pour butter over casserole and cover with cereal.
Bake, uncovered for 1 hour (casserole will puff up and some of the cereal may fall off, so I'd recommend lining your oven with foil or a baking sheet).
Let stand for 10 minutes before serving.