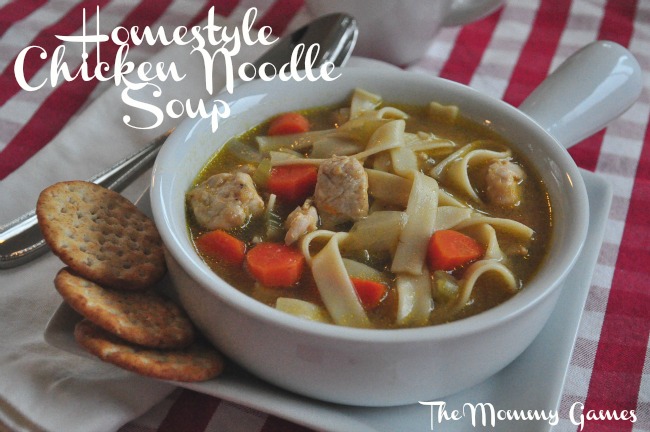 Happy New Year friends! I hope you all got in some much deserved R&R over the holidays. We had a great time with our families, but are happy to be home and back in the swing of things. A good handful of my friends seemed to have come down with a cold in recent days (no doubt all that holiday travel and stress has left us all a little susceptible to the cold and germs), so I thought I would share my recipe for chicken noodle soup. I'm not the biggest fan of chicken broth, so my version combines vegetable and chicken stock to give it a slightly different flavor. It's really delicious, and super easy. If you have an extra Parmesan rind lying around (I freeze mine) be sure to throw it in, it does amazing things flavor wise! I have a lot of fun new things to share with you all for 2013, so stay tuned!
Homestyle Chicken Noodle Soup
1 T olive oil
3 carrots, peeled and sliced
1 celery stalk, sliced
1 yellow onion, finely diced
3 cups vegetable stock (or sub in chicken stock)
3 cups chicken stock
Parmesan cheese rind (optional)
1 lb. boneless skinless chicken breast, cut into 1-inch pieces
8 oz. egg noodles
salt & pepper
Drizzle oil in a large pot over medium-high heat.
Add carrots, celery, and onion and cook until softened; about 8 minutes.
Remove vegetables from pot place aside.
Add stock & cheese rind, if using, and bring to a slow boil.
Add chicken pieces and allow to cook, stirring occasionally, until chicken is cooked through; 8-10 minutes.
Remove chicken from pot and place aside with the vegetables.
Stir in egg noodles and cook according to package directions, then turn heat to low.
Return vegetables and chicken to pot to reheat.
Add salt and pepper to taste; Serve warm.