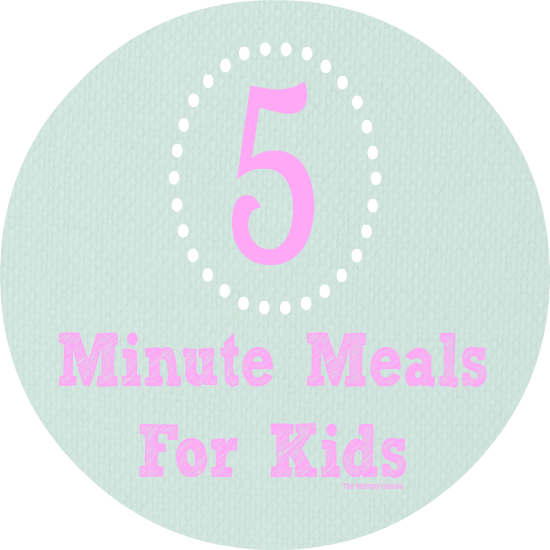 We all have those nights that just seem to get away for us. We get busy doing something-or-other when we suddenly realize it's dinner time. When I find myself in this predicament, I immediately scratch the idea of family dinner and focus on getting something made for the kids pronto. The adults will just have to fend for themselves after bedtime. Rather than having the kids fill up on goldfish while I cook for 30 minutes, I assemble a super speedy meal that can be thrown together at a minutes notice, all using ingredients that I usually keep on hand. These aren't necessarily the most well-rounded meals, but they only happen on occasion and they get the job done without having to resort to anything boxed and frozen. I usually throw in some kind of fruit side (berries often being a good choice since you don't have to cut them up) and you could also quickly microwave some frozen peas and a little butter for a veggie. They all take less than 5 minutes (because 10 is just way to long to deal with whiny, hungry children!), and there are no Rachel Ray super fast chopping skills required. These dishes have saved us time and time again, and I hope you find them helpful too.
1) Bean & Cheese Quesadilla with "Special" Dips
You Need: 1 tortilla, canned refried beans, shredded cheese, 1 avocado, salsa, sour cream (tortilla chips & fruit optional)
Spread one half of the tortilla shell with a big smear of beans and top with shredded cheese.

Fold the empty half over top of the filling and microwave until cheese is melted (about 35-45 seconds).
While quesadilla cooks, cut an avocado in half, score the inside, and spoon out into a bowl.
Roughly mash avocado with a fork and place on plate, along with a scoop of sour cream and salsa.
Cut quesadilla up into strips and place on plate with the dips. Serve with chips & fruit if desired.
2) Mini Pizza
You Need: 1 pita, jarred tomato sauce, shredded cheese, lunch meat (fruit optional)
Lightly toast pita in toaster.

Dice lunch meat (and any other toppings you want and can do quickly).
Spread toasted pita with tomato sauce, and sprinkle on cheese and cut up lunch meat.
Microwave until cheese has melted (30-40 seconds).
Cut into 4 slices like a pizza and serve with fruit.
3) Grilled Cheese Dippers with Tomato Soup
You Need: butter, 2 slices of bread, 1 slice cheese, 1 can low-sodium tomato soup
Place butter in a small non-stick frying pan over medium heat.

Place cheese slice between bread, put sandwich in pan over melted butter, and cook for a few minutes.
Open soup and pour desired amount into microwave safe bowl, cover and heat (time varies depending on how much soup your child will eat).
Flip sandwich to the other side and cook until bread is lightly browned.
Cut sandwich into strips and serve alongside soup for dipping.
4) Quickie Breakfast
You Need: butter, 2 eggs, shredded cheese, 1 piece of bread, jam or cream cheese, fruit
Place butter in a small non-stick frying pan over medium heat.

Crack eggs into a bowl and whisk.
Get bread toasting in toaster.
Pour eggs into frying pan, stirring often.
Add cheese to eggs, and cook until no longer runny.
Meanwhile, smear toast with jam/cream cheese and cut up fruit (or just grab a handful of washed berries).
Serve eggs with toast and fruit.
5) Peanut Butter & Banana Sandwich with Veggies & Dip
You Need: 2 slices of bread, peanut butter, 1 banana, veggies (carrots, tomatoes, broccoli, etc), ranch/honey mustard dressing
Toast bread in toaster.

Meanwhile, cut veggies into sticks and plate alongside of dressing.
Peel banana and cut in half lengthwise.
Smear peanut butter on one slice of toast, then place 2 banana slices on top.
Top with other piece of toast and press down slightly.
Cut sandwich in half and serve with veggies and dip.
Do you have any go-to quick meals for your kids?