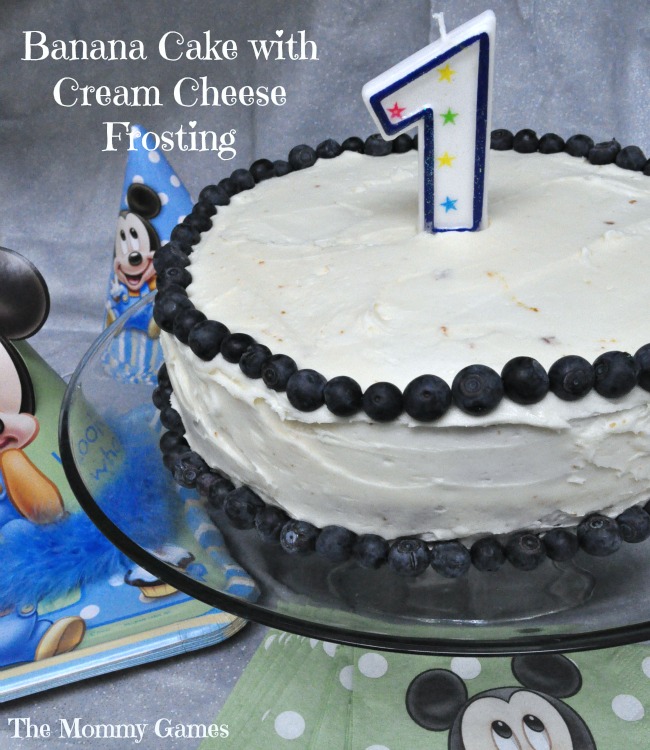 A first birthday cake can be a tricky thing. You want something that your baby will love and can safely eat, but you also want something yummy for the adult party goers. After much consideration, I decided to make a banana cake for Rylan, since he loves bananas, and top it with a cream cheese frosting. Blueberries are also his current fruit obsession, so I used those as decoration. This was a huge hit with everyone, including the birthday boy. Rylan devoured his piece and then tried to steal his brother's as well. This cake isn't too sweet, and has no nuts or chocolate (though it does have eggs), making it a perfect first dessert. I made one 2-layer cake, but if you are having lots of guests over, you might want to make a smaller "smash" cake or cupcake for the birthday girl or boy, then a separate cake for everyone else. And it's not just for birthdays, this cake would be fabulous any time!
Banana Cake with Cream Cheese Frosting
Adapted from Southern Cakes
Banana Cake:
2 cups AP flour
1 tsp baking soda
1 tsp baking powder
1/4 tsp salt
3/4 cup (1 1/2 sticks) butter, softened
1 1/2 cups sugar
3 eggs, lightly beaten
1 tsp vanilla extract
1/2 cup buttermilk
1 1/2 cups mashed ripe bananas (5-6 bananas)
Preheat oven to 350°F.

Grease & flour 2 9-in. round cake pans.
Whisk together the flour, baking soda, baking powder, and salt and set aside.
Using a mixer, beat together the butter and sugar for a few minutes.
Add the eggs one at a time, then add in the vanilla and beat for 2-3 minutes, occasionally scrapping down the bowl.
Add half the flour and stir just until combined, stir in buttermilk, and then add remaining flour in same way.
Gently fold in the bananas.
Divide the batter between the pans and bake for 25-30 minutes, until the cakes are golden brown and spring back slightly when touched.
Cool in pan on wire racks for 10 minutes, then turn out to cool completely.
Cream Cheese Frosting:
1 8-ounce package cream cheese, softened
1/4 cup (1/2 stick) butter, softened
1 1-lb box confectioners' sugar
1 tsp vanilla extract
Using a mixer, beat together the cream cheese and butter until mixed well.

Add the sugar and vanilla and beat on high until the frosting is fluffy and smooth, scrapping down the bowl as necessary.
Make sure cake is entirely cool before spreading on top.