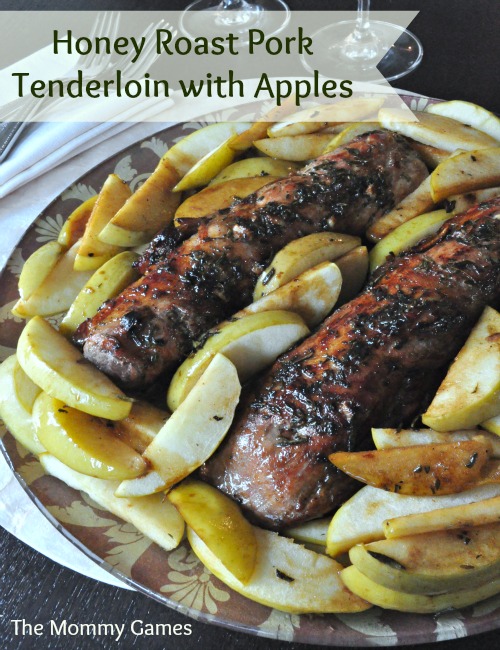 Can you believe Easter is this weekend?! I feel totally caught off guard, partially due to the early holiday this year, but also due to the lingering cold. Going to church Easter Sunday in boots and sweaters just doesn't seem to jive in my mind. I do, however, feel totally re-energized from our days at the beach and am super grateful to my mom and dad who watched the boys for us. I love my kids, but days when you aren't called "mommy" are priceless in their own ways as well.
I wanted to share this recipe with you this week because it would be so perfect for Easter dinner. It's very simple, and yields you these beautiful tenderloins and a side dish. Throw in a vegetable and some rolls and your dinner is set. The tenderloin is not only delicious, but also plates beautifully and has just enough of that "special" feel to make it perfect for a holiday.
Honey Roast Pork Tenderloin with Apples
Adapted from Simply Divine – serves 6-8
Two 1 1/4-lb. boneless pork tenderloins, fat trimmed
3 garlic cloves, cut into small slivers
1 tsp rosemary, finely chopped (additional for garnish)
1 T thyme, finely chopped
1/2 tsp salt
1/2 tsp pepper
4 T unsalted butter, divided
3 T honey
4 Granny Smith apples, unpeeled, cored & cut into 1/2-inch wedges
1 T cider vinegar
1 1/2 T light brown sugar
Preheat oven to 375°F and position rack in center of oven.

Fold thin end of tenderloin underneath and secure with kitchen twine to ensure even cooking.
Roll garlic slivers in rosemary,then using a small, sharp knife, pierce the tenderloins and place the coated garlic inside each slit.
Combine left over rosemary, thyme, salt, and pepper and rub all over tenderloin.
Heat 1 T of butter in pan over medium-high heat and sear pork on all sides, about 5 minutes.
Add the remaining butter and honey and cook, turning occasionally until the mixture has reduced to a glaze, about 5 minutes.
In a bowl, toss together the apples, vinegar, and brown sugar.
Spread apples aside tenderloins in roasting pan, and place in oven.
Cook for about 20 minutes, or until an instant read thermometer in the center of the tenderloin reads 145°F.
Transfer the pork and apples to a platter and cover with aluminum foil.
Place the roasting pan over high heat, add 1/4 cup of water and bring to a boil, scraping down any browned bits.
Boil for just a few minutes until reduced by half (careful, as this can easily burn).
Remove kitchen twine, slice tenderloins, pour sauce over top, and garnish with rosemary. Serve immediately.