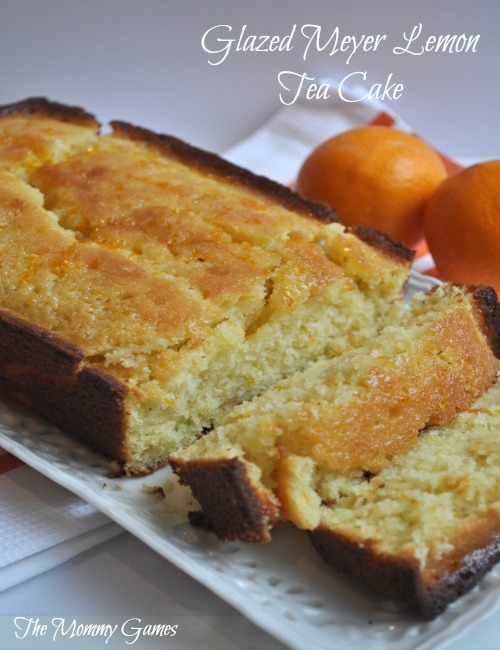 I love having a snack cake around the house. It's perfect for dessert after dinner, an afternoon snack, a quick (albeit unhealthy) breakfast, and if you have one around to serve unexpected guests you automatically look like Martha Stewart for having something so fabulous baked up and sitting prettily on the counter. And this is just the cake to kick-off Spring. If you've never used Meyer lemons in baking before, you most definitely should grab a few before they're all gone (the season is pretty quick). They are more mellow than a regular lemon and a flavor that is uniquely their own. Once baked, this cake is topped with a warm dessert wine glaze that seeps into the cake, and when cooled, adds an extra sweetness and richness without being sticky. A great twist on a classic lemon cake!
Glazed Meyer Lemon Cake
Adapted from The Winemaker Cooks —-> one of my all time favorite cookbooks!
Cake:
1 1/2 cups AP flour
1/4 tsp baking powder
1/4 tsp baking soda
1/2 tsp salt
1/2 cup unsalted butter, at room temp
1 cup sugar
2 large eggs, at room temp
grated zest from 2 Meyer lemons
2 T Meyer lemon juice
1/2 cup buttermilk
1/2 tsp vanilla extract
Preheat oven to 350°F and butter and flour a 9 x 4-in loaf pan, knocking out excess flour.

Whisk together flour, baking powder, baking soda and salt.
In the bowl of a stand mixer fitted with a paddle attachment, cream the butter and sugar until fluffy; about 5 minutes.
Add eggs one at a time, scrapping down sides as needed.
Mix in zest, lemon juice, buttermilk and vanilla.
Add the flour in 2 batches, mixing just until combined.
Pour batter into prepared pan and bake for about 55 minutes, or until a tester inserted in the center comes out clean.
Allow cake to cool in pan on wire rack for 10 minutes before running a knife along the edges and turning out onto rack to cool completely.
Place newspaper underneath rack and pour glaze over top.
Glaze:
1/2 cup white dessert wine, like Sauternes
1/2 cup sugar
1 tsp grated Meyer lemon zest
Combine all ingredients in a small sauce pan over high heat and bring to a boil.

Reduce heat to medium-low and cook for 10 minutes, stirring often.
While cake is still warm, poke holes all over using a chopstick and pour warm glaze over top.
Allow to fully cool before serving.