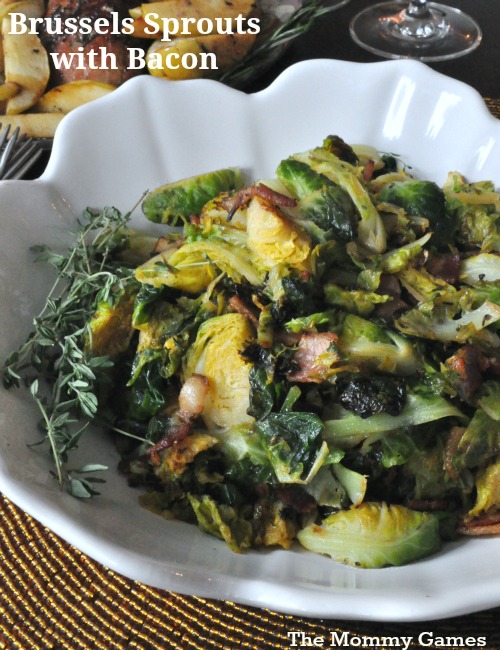 Brussels sprouts are one of my go-to veggie sides, so I thought I would share one of my favorite ways to prepare them before they are totally out of season. Anything that involves bacon is usually a hit in our house, but I was still surprised to see my toddler gobbling these up. He's exceptionally weary of anything green (he seriously will pick out tiny little pieces of herb from his soup!), so the fact that I can get him to eat a relatively large helping of these without promising to deliver 5-hours worth of Thomas on the tv makes this a win in my book. These are also a guaranteed hit with adults and instantly elevate a casual weeknight dinner. Hope everyone has a fabulous Spring weekend!
Brussels Sprouts with Bacon
1-lb. Brussels sprouts, trimmed and halved through the root (quarter if larger)
5 pieces of bacon, chopped
1 tsp. fresh thyme
1 tsp. fresh sage, chopped
salt and pepper
Bring a large pot of salted water to a boil.

Cook Brussels sprouts in boiling water for a few minutes, just until tender, then drain and set aside.
Cook bacon in a large skillet over medium high heat until crisp.
Add cooked Brussels sprouts, thyme, and sage to skillet and cook until sprouts begin to brown (about 5 minutes).
Season with salt and pepper to taste.