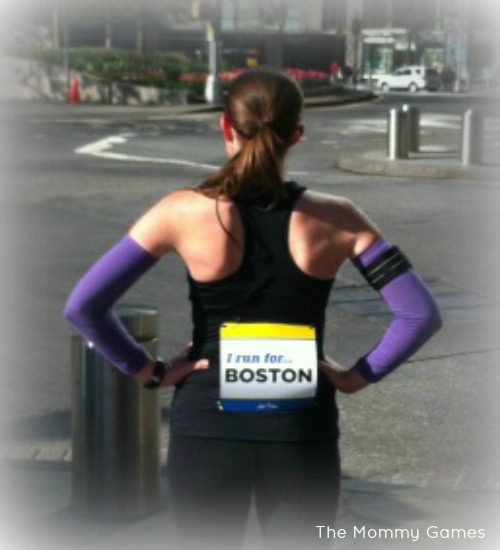 I'm a runner. Many of you already know this, but after the events on Monday, I feel compelled to not only proclaim it on my blog, but to scream it to the world.  I have never before been more proud of my sport than seeing the amazing way the running community has come together in this time of tragedy. I get chills just thinking about it. We are a tough, committed, and loving group and I feel so blessed to be a part of this incredible way of life. Running embraces all abilities. It changes lives. I don't think there is any way to measure the amount of joy, health, and healing the simple act of putting one foot in front of the other has afforded its participants, and those who love them.
I haven't really written about my running much because I've always thought of it as something that is solely for me. I don't run the fastest or the farthest. I haven't made some life changing transformation, like losing 100 pounds. I definitely don't have a model diet. But I do run, and I've been doing it for over 15 years. Running has meant different things to me during those years – sometimes as part of a team, others just as a way to get in shape, but currently, it's a way to feel connected to myself. I'm not mommy when I run, I'm just Ashley.
After watching the end of the marathon on Monday, I felt elated. It's always moving to see people lay their heart and soul out, to give more than you thought humanly possible. I can't believe that got completely turned upside down in a matter of minutes. Now I'm left with the same emotions as everyone – sadness, confusion, and anger. Lots of anger. Running creates peace and unity and I am at a loss of how to make heads or tails of someone attacking it and its spectators. As a mother, I can't even begin to grasp the tragedy of a lost child. It's simply too much for my heart.
The other day my husband made the comment that he didn't necessarily feel like a runner. To quote, he said that he feels like he is "crashing another persons sport." This man recently ran a half marathon (at 7:36 pace no less), gets up at 5 am most mornings to hit the pavement, and has been running more days than not for nearly 2 years. But it's not those things that make him a runner in my eyes, it's the fact that when Monday's tragedy struck, he was just as affected as me. That's HIS tribe that was attacked. We all share that passion, and we all feel the loss that our sport has suffered.
I've been considering sharing more about the sport I love on here, and don't be surprised if you see a few posts up soon about my running life. Simply put, I'm a runner, and a darn proud one.
Love and prayers to you Boston!