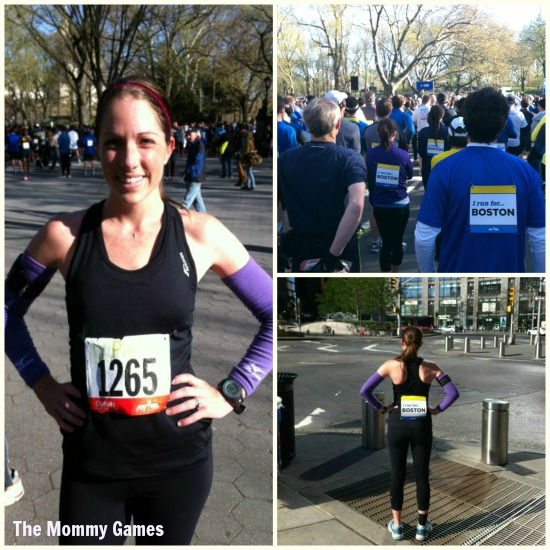 We are trying something a little different, so if you are here for the food and mommy talk, be sure to check back later in the week!
As I mentioned in my last post, I'm going to start touching on my running a bit here, so let's kick it off with a race recap from a run I did with my husband yesterday. The last time I did this race was actually back in 2005 when I was in the city interning. It's funny because most of my old race times are under my maiden name, so I got a clean slate when I officially changed my last name. I still like to look back and see how much I've improved though (especially since I was doing more partying than running back in those days and my times definitely reflected it!). The weather was a little chilly but an overall gorgeous day. NYRR had us all wear "I run for Boston" bibs on our backs, and tons of people were dressed in the blue and gold of the Boston Marathon. I was nearly brought to tears when the woman who sung the national anthem, a native Bostonian, started choking up. I think everyone felt the weight of what had transpired last Monday, and it was definitely an emotional moment. It felt good to be at the starting line, honoring Boston, even in the smallest way.
Mile 1 (6:56): Very slow start. NYRR races are always packed, but we are generally in a seeded corral that allows us not to have to fight through too many people. Not the case this time. I think a lot of people just wanted to come out and show support for Boston and weren't out to actually race. People were literally jogging from the start and I felt totally blocked in for most of the first half-mile. Made up a lot of ground on the second half when it started to open up, and felt good that we were still able to hit a goal pace.
Mile 2 (6:53): This is a lovely, flat portion and I just wanted to keep my legs moving. I knew the next mile was going to be tough and it wouldn't hurt to gain some wiggle room with this mile. Towards the end of the mile, I spotted a girl that I met at a previous race and I knew she had wanted to break 28 minutes. I ran up to her and gave some kind of, "let's go sub today!" cheering, but she was already so spent she couldn't even look at me. Actually, she just looked kinda pissed off. I know no one likes someone chirping in your ear when you aren't feeling it – but geesh!
Mile 3 (7:05): A series of 3 hills that make up the west side of Central Park. Not easy, and certainly not my favorite. My husband was amazing and kept us close to pace (he had committed to staying with me and helping me PR rather than running to his capacity that day – what a guy!). I just hung on.
Mile 4 (6:39): Speed Alley. This is usually the last mile to all my training runs since it ends near our apartment, so I knew as long as I could get there with a little in the tank and on pace, that I should be able to bring it home no problem. And that's exactly what happened. I dead out sprinted the last 100 meters and passed a few people. Brad finished right with me and kindly grabbed me water and a banana afterwards. Was totally ecstatic to look at my watch and see 27:40!
Garmin says I ran 4.02 miles in 27:40 (6:53 pace). In the end, my posted time was actually 27:47, but they gave Brad 27:44, and he crossed the start with me and the finish just behind, so I'm not really sure how that happened (and they put me 15 people behind him, which I know didn't happen). The timing mechanisms were actually attached to our bibs, so maybe they aren't as accurate.  It's not a big deal, but I feel a *tiny* bit slighted. In the grand scheme, especially after the past week, it's of zero consequence. Just happy to finally have a "6" next to my pace!
Did you race this weekend? Anyone do a run for Boston?