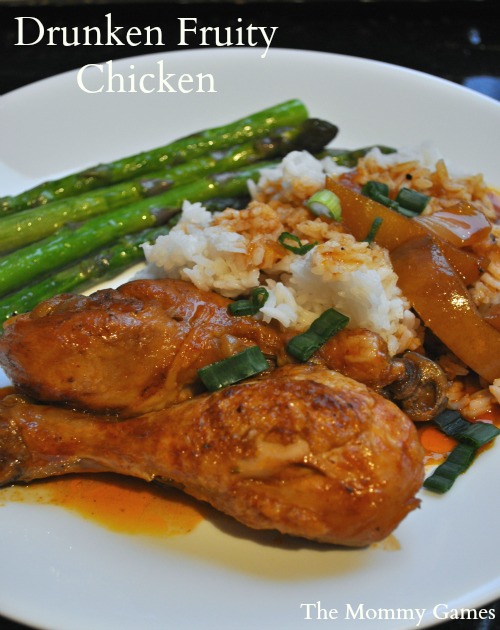 I've been in a bit of a cooking rut lately. There just seems to be a lot going on, and quite simply, the kitchen has not been on my must visit list. So we've been eating breakfast for dinner, lots of pasta, and tons of these easy no-fuss recipes. Just because I haven't necessarily been in the mood to cook, does not mean I haven't been in the mood to eat! Come 6 o'clock I still want something tasty to sit down to (and a dessert to follow wouldn't hurt either). That's why I love dishes like this that are filled with flavor (you did notice the drunken and fruity part of the title, right?), but take hardly any effort. Feel free to use nearly any stone fruit of your choosing (peaches, plums, apricots, etc). And be sure to serve with a heaping pile of rice to soak up all that yummy sauce.
Drunken Fruity Chicken
Adapted from The Pioneer Woman Cooks: Food from my Frontier
2 T olive oil
2 T butter
12 chicken legs, skin on
salt & pepper
1 sweet onion, diced
1 cup whiskey
4 cups barbecue sauce
1 cup peach preserves
1/2 cup water
4 nectarines (or other stone fruit), pitted and sliced with skin still on
2 green onions, sliced
rice for serving
Preheat oven to 300°F.

Heat oil and butter in a large dutch oven over medium heat.
Season chicken with salt & pepper, then brown on all sides (do not cook through).
Remove chicken and set aside.
Add the onion to the skillet and cook for a few minutes until translucent,
Pour in the whiskey (carefully!), and cook, stirring frequently, for 5 minutes, or until the alcohol smell is almost gone.
Whisk in the barbecue sauce, peach preserves, and water.
Nestle chicken back into sauce along with the fruit.
Place lid on pot and place in oven to cook for 1 hour 15 minutes.
Remove lid and allow to cook for another 15 minutes.
Serve the chicken and sauce over rice, sprinkled with green onions.