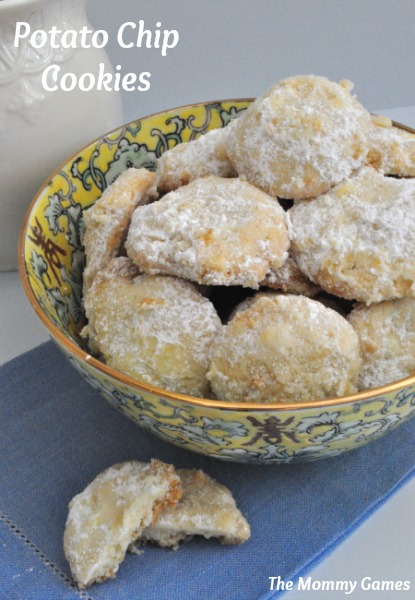 My husband and I went out of town a few weeks ago while my wonderful parents stayed with the kids. Not only did we come back to 2 happy little kiddos, but also a freezer full of banana bread (my mom's specialty) and a huge container of these cookies. That huge container didn't last long. Seriously, these cookies should come with a warning. Just like potato chips themselves, I bet you can't stop with just one. They remind me of Danish wedding cookies, shortbread covered in powdered sugar, but slightly lighter and with a tiny crunch. If you don't tell people that you've thrown in potato chips, I doubt anyone would figure out just what gives this cookie its extra special element. These would be the perfect treat to bring to a party or barbecue. Just don't keep them around the house because they are dangerously addicting! Thanks mom for this amazing recipe!
Potato Chip Cookies
makes 4 dozen
1 cup sweet butter, softened
1/2 cup sugar
1 3/4 cup AP flour
3/4 cup coarsely crush potato chips
1 tsp. vanilla
2/3 cup powdered sugar, sifted
Preheat oven to 350°F.

Cream butter and sugar together using a electric mixer, until light and fluffy; 3-5 minutes.

Add flour, potato chips, and vanilla, and beat until well combined.
Drop teaspoon size amounts of dough onto an ungreased cookie sheet and bake for 10-12 minutes, or until edges are lightly browned.
Cool for 5 minutes, then roll in powdered sugar.