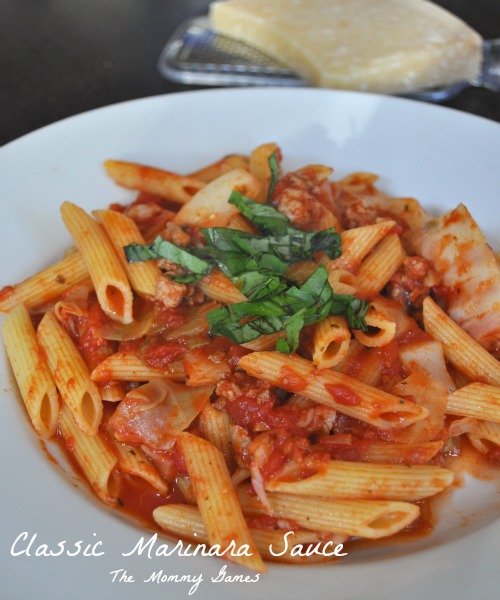 If there is one thing our family eats a lot of, it's pasta. Almost every Friday night, we serve up a big bowl of pasta with marinara sauce and a crusty, buttery loaf of garlic bread. I love that this meal takes barely any preparation or thought, and it always pleases the little ones. Our toddler gets an extra kick out of grating the Parmesan on top of his plate. Sometimes I will just open a can, but most of the time I grab a tupperware of this sauce out of the freezer. Everyone needs a go-to marinara recipe, and this has been mine for years. It's all about choosing good quality canned tomatoes, San Marzano with basil being my favorite. I usually will make a huge batch of this on a random weekend, and then I'll be set for the next month in the sauce department. It's really as easy as dumping it all into a big pot, stirring every once in a while, and letting it simmer for an hour while it fills your home with the most mouthwatering smell. Trust me, your family will be ready for dinner after smelling this all afternoon! My husband's favorite pasta dish of all time is this sauce served along with cooked penne, cabbage, and Italian sausage pieces. That's the beauty of a good, classic marinara, you can add anything you like, or nothing at all and it will still make for a delicious and soul-satisfying meal.
Classic Marinara Sauce
Adapted from Rao's Cookbook (very easily my favorite Italian cookbook)
Makes about 5 quarts of sauce, which is a lot so feel free to half the recipe!
1/4 cup olive oil
1/2 onion, minced
6 garlic cloves, peeled and minced
6 28-ounce cans crushed tomatoes with basil, preferably San Marzano
salt to taste
18 fresh basil leaves, chopped
1 tsp dried oregano
pepper to taste
Heat oil in a very large, heavy pot over medium-low heat.

Saute onion for 3-5 minutes, just until it begins to brown.
Add garlic and cook for 1 minute.
Stir in tomatoes and salt, raise heat and bring to a boil.
Immediately reduce heat to a simmer, and cook, uncovered for 1 hour 15 minutes.
Stir in basil, oregano, pepper and more salt to taste if needed.
Remove from heat and serve hot if eating immediately, or allow to cool before storing.