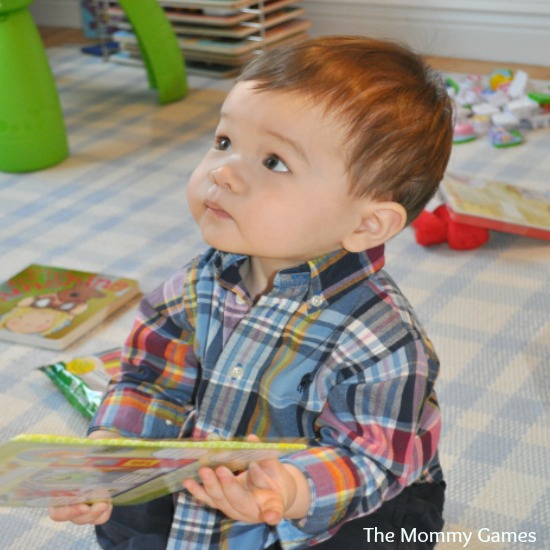 Can I even call this little guy a baby anymore?! I guess at 14 months he is now technically a pre-toddler, but I think we will stick with baby for, oh, the next 17 years or so. We have been pretty busy for the past few months, so it really does seem like he just turned one. And he is just as cute and sweet as ever.

Rylan finally took his first steps a few weeks ago, and we were all excited thinking that he was ready to take off walking. But in typical "I'll do as I please" child fashion, he is having none of it. Once he realizes that he is actually faster crawling than walking, he immediately drops to his knees. He even gets mad when we try to get him to walk. I guess you can't blame him since he really just wants to chase his brother around and not have to concentrate so hard. His other gross motor skills have really improved recently though. He loves balls and can throw and catch really well. He's also gotten more adept at playing with puzzle type toys (the "insert the square into the right hole" kind) and is super proud that he can now tee up the plastic golf ball, which he then attempts to hit with the club. Did I mention he comes from a family full of golfers who are quite possibly more excited about this than his first word?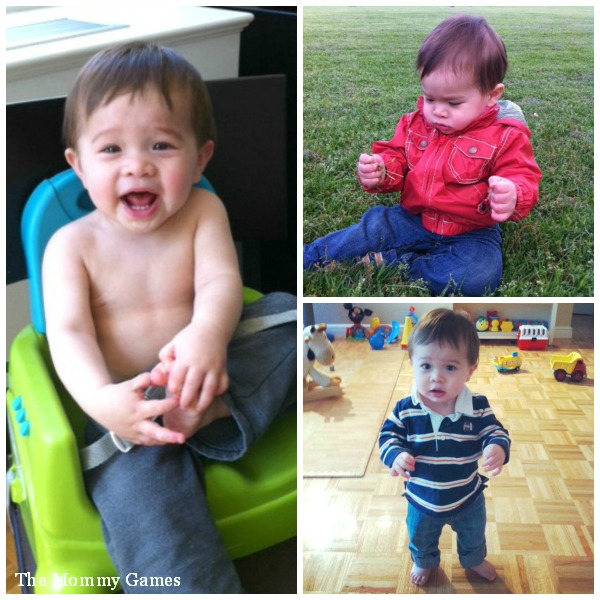 He continues to be an excellent communicator, though we haven't had any new words. There are noises that sound like words, but I'm not counting them until someone other than me can decipher what he's saying. The coolest is that he makes a noise that is very close to "thank-you" when he gets something he wants. I love that! Brandon is shockingly polite in this regard, so I wonder if Rylan's picked it up from him. He copies Brandon a lot – everything from the way he plays with trains to his tricked out dance moves resemble those of his brother. Brandon has been surprisingly great with Rylan recently. He actually asks about him if he is napping and tries to play with him in whatever way he can. His favorite thing is to find things he knows Rylan likes and inform everyone that we should do "x" or play with "y" because it's what Rylan loves. They can upset each other when they won't share toys or if one is playing too rough (yep, Rylan can do just as much damage as Brandon), but overall they get along great. It actually gives me a break that they entertain each other.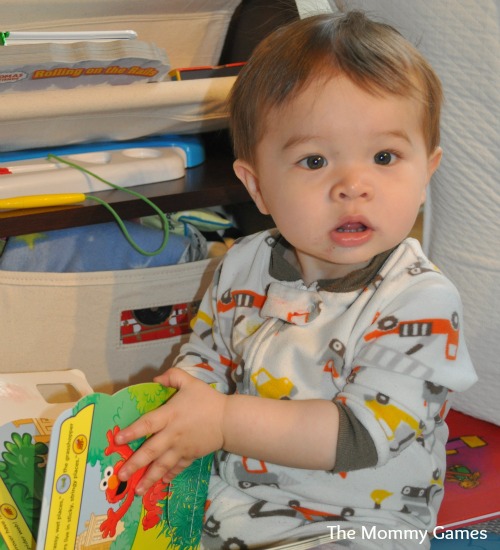 Rylan finally got his first haircut about a month ago and absolutely freaked. He's going through a phase where he likes to be held and can sometimes get upset when I leave him, so he was non too thrilled to be plopped in a chair and have some random woman come at him with a sharp object. He literally screamed the entire time. It was so over the top, that it was actually funny, and the stylist was really patient and good with him.
His favorite toys of the moment are most certainly books. The kid will just plop himself over in our "library" area of the playroom and flip through books for 30 minutes. It's kinda awesome. Brandon did the same thing, so maybe most kids can entertain themselves this way? I certainly hope my love for reading will rub off on the kids, but as much as he likes books, the minute I mention tv he starts clapping and bouncing. He really get into shows and will clap, scream, and babble along the whole time.
Can't wait to have him outside toddling all over the playground this summer!
Rylan's Schedule at 14 Months:
7:30 am – wake-up, get dressed
7:45 – breakfast w/ Brandon
8:15 – playtime or outside
9:30-10:30/10:45 – nap #1
10:45 – small snack & gym/errands
12:30 – lunch
1:30-3:30/4:30 – nap #2
4 – snack & outside time (usually have playdates here, and will skip straight to dinner after)
4:30 – bath
5 – indpependent play in playpen
5:30 – watch tv with Brandon
6 – playtime with Daddy
6:30 – dinner
7 – bottle & stories
7:30 – bedtime!