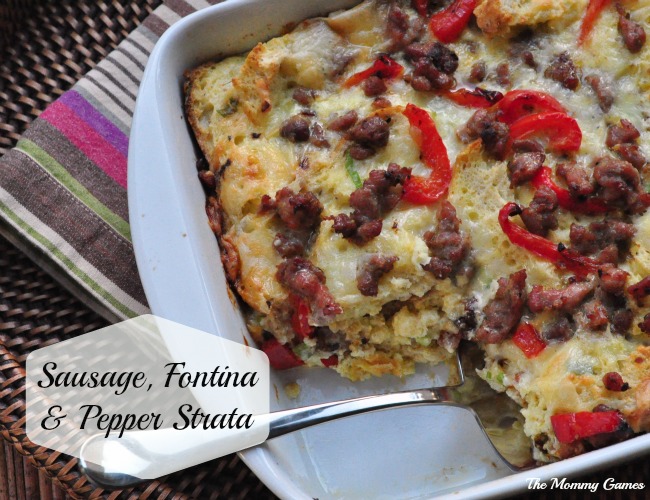 Are you a breakfast for dinner kind of person? I am a huge breakfast for dinner person – eggs, pancakes, even cereal when I'm on my own, I seriously could eat breakfast for any meal of the day. My husband, not so much. It's probably the only food related discrepancy we have. Since I'm the one cooking dinner, he sometimes just has to suck it up and eat what I fix, but we now have reached a very happy compromise. This casserole is the best breakfast casserole I've ever had. Seriously, so ridiculously good. It's like your average breakfast casserole with the meat, cheese, and eggs, but much more polished and gourmet tasting. Make this for breakfast, brunch, or dinner and your dinning companions are bound to be swooning. The great thing is that you can prep it ahead of time, let it soak up in the fridge, then pop it in the oven when you are ready to go. This one is a keeper!
Sausage, Fontina & Pepper Strata
Adapted from Bon Appetit
6 eggs
2 1/2 cups whole milk
1/4 cup sliced green onions
1/2 cup whipping cream
1/2 cup grated Romano cheese
1 tsp dried oregano
1/2 tsp salt
pepper
1 lb Italian sausage (sweet or hot depending on your taste), casings removed
1 red bell pepper, cut into 1/2-inch strips
1 1 lb loaf sourdough bread, cut into 1/2-inch thick slices
2 cups Fontina cheese, coarsely grated
Preheat oven to 350°F and butter a 13x9x2-inch baking dish.

Whisk together first 8 ingredients and set aside.
Heat a large nonstick pan over medium-high heat, and cook sausage on one side and bell pepper on the other until sausage is cooked through and the peppers are softened and brown in spots (about 7 minutes).
Arrange half of bread slices in bottom of baking dishes, pour half of egg mixture over top, and sprinkle with half of cheese and half of sausage and pepper mixture.
Repeat layering, pressing down on bread to submerge.
Cover and place in fridge for at least 20 minutes or overnight.
Bake strata for about 1 hour, until puffed and slightly browned. Allow to cool slightly before serving.