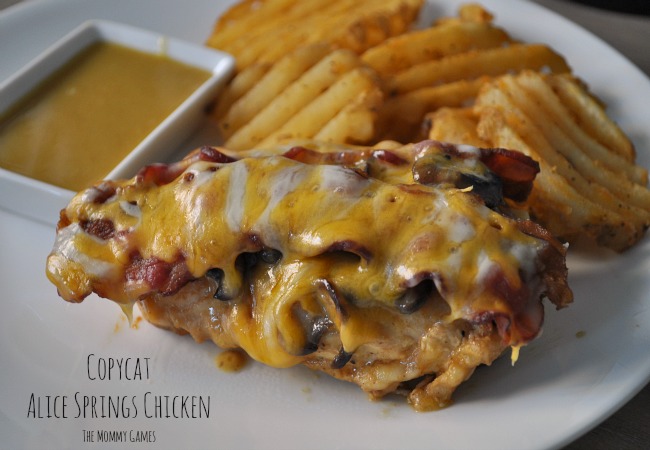 Living in NYC, we have a plethora of delivery food options. Ranging from fancy steak & lobster to greasy Mexican, practically anything you want can be delivered right to your door in this fabulous city. In one of our old apartments, we lived just blocks from an Outback Steakhouse and would have that delivered at least a couple of times a month. I'm slightly obsessed with their Alice Springs Chicken dish. Chicken, cheese, bacon, mushrooms – what's not to love? This recipe is darn near identical to what you get in the restaurant and it's simple to boot. I always serve it along with a pile of spiced fries and extra honey mustard sauce. De-freakin-licious.
Copycat Alice Springs Chicken
Inspired by version at Outback Steakhouse
1 T butter
2 cups sliced mushrooms (recommend baby bellas)
8 slices bacon
4 boneless skinless chicken breasts
seasoned salt
pepper
honey mustard, plus extra for serving
2 cups shredded cheddar and Monterey jack cheese
Preheat oven to 350°F.
In a small pan, heat butter over medium heat and cook mushrooms until softened and slightly browned, about 5 minutes. Set aside.
Cook bacon in a frying pan until slightly crisp and set aside.
Season chicken on both sides with seasoned salt and pepper
Remove all but 1T of bacon grease from pan, and cook chicken on both sides in remaining grease until browned and cooked through, but not dry.
Place chicken in a small baking dish.
Spoon honey mustard on top of chicken, then mushrooms, 2 pieces of bacon, and a generous sprinkle of  cheese to cover.
Cover dish with foil and bake for 15 minutes, until cheese is melted.
Serve along with extra honey mustard for dipping.