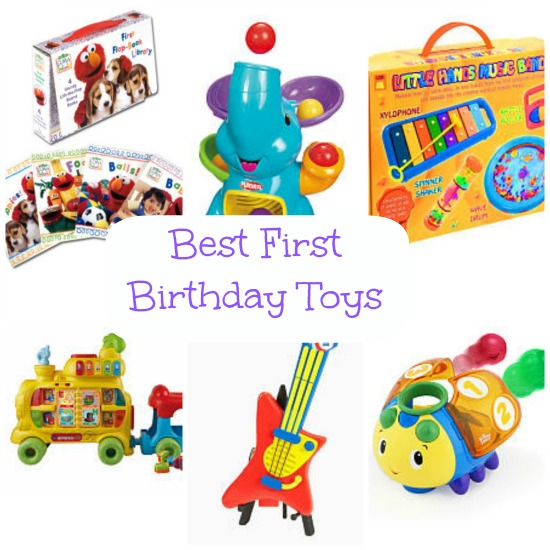 Like most kids these days, my little ones are pretty spoiled. They are the first grandchildren for 2 sets of grandparents, and Brad and I generally have more fun picking out toys than the kids do playing with them. This isn't something I'm necessarily proud of, but no matter how much we try and keep things in check, I'm all too aware of the fact that our place is chock full of toys of every shape and sort. When Rylan turned one a few months ago, I decided to be really conscious of what we were buying him and to aim for quality over quantity (it didn't hurt that we already had a pile of age appropriate toys passed down from Brandon). I wanted to share with you the toys that had sticking power – the ones that he liked right from the beginning, still get played with daily and can grow further with him, and those that I don't find so annoying that I want to chuck them out the window onto the Broadway traffic.
Here's my list for Top 5 Best First Birthday Toys:
1) Balls & Poppers – Balls provide tons of safe and fun development opportunities. We have a huge bin full of different sizes, shapes, and textures, Rylan's current favorite being a variety of colorful wiffle balls. We also really love this Elephant Popper and this Having a Ball Count and Roll Buggie. They both are amazing because they require that the baby put the ball in the appropriate hole, crawl (or walk)to retrieve it, and marvel at the fun little tricks that happen once they get the sequence right.
2) Climbing & Exploration Toys – By one year, your little guy or girl will probably be aching to test out their new found gross motor skills. This Kangaroo Climber was one of Rylan's gifts, and it has been awesome. There's tons of room to grow into it (our almost 3-year old is obsessed with it as well), and is full of nooks and crannies for the kids to explore. Older babies often seem to love slides, and having an indoor option can be really nice during the winter months. If you don't want such a large space commitment, something like a tunnel would be a great way for them to get the wiggles out without taking up much room.
3) Musical Instruments – Anything that makes noise is a big hit with my one-year old. This musical set would be an awesome gift that they are sure to enjoy for a long time to come. Also, the one toy that all kids go for immediately is the guitar. We seriously had to buy a few because they are so popular during playdates.
4) Walkers & Push/Ride-On Toys – Once they start walking, chances are they won't be able to get enough of it. My kids love this Sit-to-Stand Alphabet Train since it has pushing, sitting, walking, music, and learning components.
5) Books – You can never go wrong with books. I recommend a variety so that they have some they can explore on their own (like board books) and those with flaps and buttons, or some that are may be a little more advanced (with real rip-easy pages) that they can grow into and will someday become family favorites. My kids always seem to like books that come in sets as well.
What have been some big hits with the one-year olds in your life?