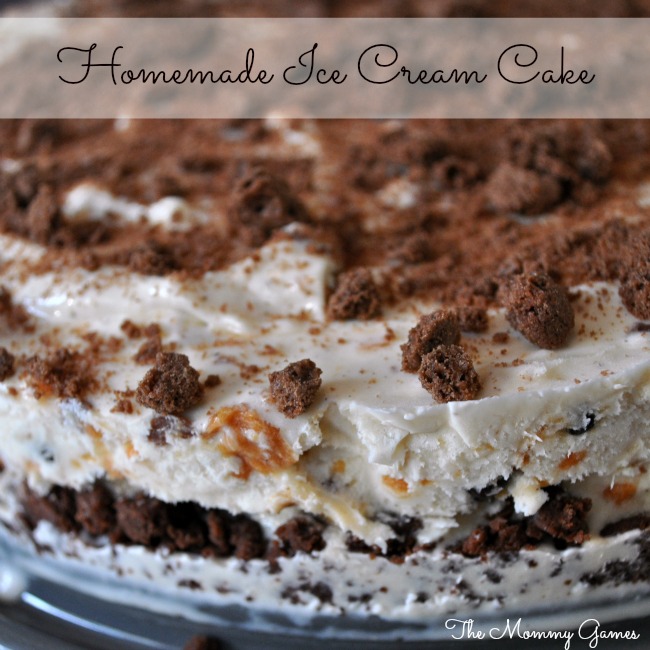 Ice cream cakes are now officially my favorite desserts to make. Nearly zero effort or time involved, endless flavor and mix-in possibilities (think frozen yogurt toppings endless), and ridiculous deliciousness. And you don't have to turn on the oven, which is a major plus in the summer. I actually made this particular cake a few weeks ago for my brother-in-law's birthday. He doesn't like traditional cake (I know, I know) so I was racking my brain to come up with something different that we could still stick a candle in. Et Voila. Make this. Then, when you've eaten it all a day later, make another one with whatever ingredients your mind can dream up. You won't think of buying one from DQ ever again. Make whatever alterations to the ice cream and fillings you want – there is no going wrong here!
Homemade Ice Cream Cake
Crust:
1 3/4 cup chocolate graham cracker crumbs (smash up cookies in a ziploc)
6 T butter, melted
Preheat oven to 375°F.
In a bowl, combine graham cracker crumbs and butter.
Press mixture into the bottom of a 9-inch springform pan.
Bake for 10-12 minutes, or just until you begin to smell the cookies.
Cake:
2 1/2 pints vanilla ice cream, slightly softened
1/2 cup chocolate chips, plus more for garnish
1/2 cup peanut butter chips, plus more for garnish
2 full-size Heath Bars
1 cup chocolate biscotti cookie crumbs (smash up biscotti cookies in a ziploc), plus more for garnish
chocolate sauce
dulce de leche sauce
Mix together all ingredients, except for sauces and garnishes, in an electric mixer with a paddle attachment, just until combined.
Pour on top of crust, cover with plastic wrap and place in freezer to harden.
Once firm, remove pan mold and sprinkle with garnishes. Drizzle sauces on individual slices.