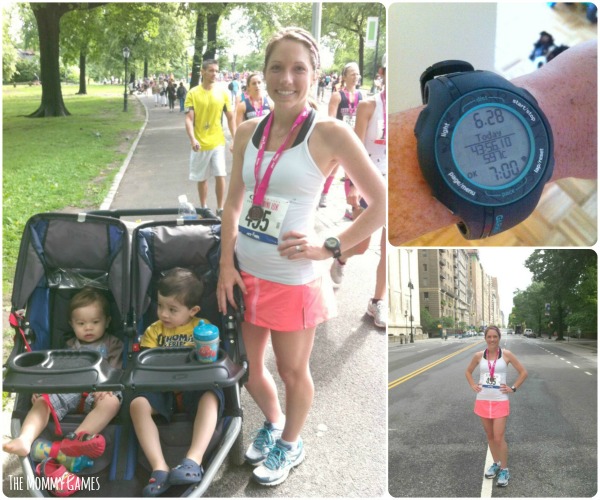 I am not a goal setter. Well, at least not a very aggressive one. I like to set attainable goals that I know are within reach, then pleasantly surprise myself with better results. I know this flies in the face of every motivating philosophy out there, but it's worked for me, especially when it comes to running. Running is supposed to be fun and beneficial in a zillion different ways that have nothing to do with a particular time. Running keeps me healthy and sane, and it would do exactly the same thing whether I ran 7:30 paced miles or 7:20. Don't get me wrong, I'm competitive (sometimes to a fault), but I don't like to add fuel to that fire by giving voice to my big goals. I like keeping running in a stress free bubble most of the time.
So why the heck did I have to go and voice a pretty stretch goal for this 10K to multiple people?! My current PR was fairly outdated, so I could have easily just slid by and said I wanted to improve it with this race. There would have been hardly any pressure and I was almost guaranteed a happy outcome. But nooo…I had to go and run my big mouth to some friends, one of which wanted to run practically the same time. Now I was committed.
I woke-up this morning none too happy with the stress I had heaped on myself, but eventually put my big girl panties on and just decided to get over it already. Breaking 44 minutes wasn't totally insane, I just knew it would hurt, and it did!
I met up with my friend Barbara in the start coral and we both marveled at how close we were to the elites. It's a really cool feeling, and one of the reasons I like this particular race so much. The downside to this is that people go out fast. It's tempting to get caught up with it all since CPW is so open and inviting as opposed to the normal confines of the park.
During the first half mile I kept on thinking that I was in big trouble because I was already having a hard time holding the pace. After a quick look at my watch I knew why. We were running close to 6:30 pace when my plan had been around 7. We slowed down a little and even hung with Mary Wittenberg for about a mile. Nothing like a little running celebrity to spice things up! We were able to stay at a good clip through the first 5k, and the steepest climbs were behind us.
Things got a little shaky for mile 4. It just seemed to go on forever! I'm used to running the park in a clockwise direction, so running counter gave me a whole new perspective. And I didn't like it. There's no up and down, just some gradual up that really beat me down. So thankful my friend was there to keep me moving. Kept telling myself to stop being a wuss, we only had like 20 more minutes of running left.
As we headed in for the final mile I knew I was close to my time goal, and guess what, it actually freaking motivated me! Duh! Of course it did, that's what the whole goal setting thing is all about, right?! I pushed hard the final 400 meters when I saw the clock ticking down the seconds to 44 (I had started close enough to the gun to actually get an idea from the race clock). Official time was 43:55. A whopping 5 seconds faster than my stretch goal. For a girl who is used to having no expectations, accomplishing this felt pretty awesome.
Maybe there is something to this whole dream big thing after all.
Mile Splits:
1: 6:54
2: 6:54
3: 6:54
4: 7:21
5: 6:56
6: 7:04
.28 (I'm obviously not the tangent running master): 1:54
Did you race this weekend? Any new PRs? How do you feel about setting stretch goals?