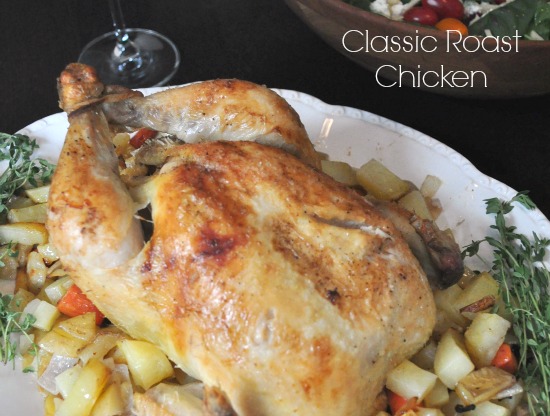 There are a few dishes that every girl should have in her back pocket. Roast chicken is most decidedly one of them. The ingredients are few, the recipe is simple, and the presentation is so stunning your family/guests/future husband (remember the craze over engagement chicken?) will be all too convinced of your culinary awesomeness. Everyone has their own spin on what qualifies as the perfect roast chicken, but I tend to keep it classic and unadorned. Making sure the skin is brown and crisp is key, as is getting the meat to stay tender and flavorful.
This is a great family meal since you have potatoes and veggies cooked right along with the chicken, soaking up all those savory juices. These are the types of recipes I like to keep at the ready and try to commit to memory (don't worry it's simple). Cooking without having to look at a recipe is freeing and as long as you have a trusty meat thermometer, you really can't go wrong here. Having a basic yet impressive recipe like this committed to memory will also keep you from those last minute scrambles when you are in the grocery store but have no idea what to make. That's the beauty of a classic roast chicken – it's as perfect at a dinner party as it is served on plastic plates to hungry toddlers.
Classic Roast Chicken
Adapted from Dinner: A Love Story
6 Yukon Gold potatoes, cut into a large chunks
1 small onion, diced
4 carrots, peeled and diced
1 T olive oil
salt and pepper
1 whole roasting chicken, about 4 lbs.
1 lemon, halved
few sprigs fresh thyme
2 T butter, melted
Preheat oven to 425°F.
Place potatoes, onion, carrots, and oil in a roasting pan, sprinkle with salt and pepper, and stir to combine.
Roast for 15 minutes.
Meanwhile, pat the chicken with paper towels to remove any excess moisture, then place lemon halves and thyme sprigs inside the chicken cavity.
Cross the legs and tie with kitchen twine.
Once the vegetables have cooked for 15 minutes, take the pan out of the oven and place the chicken on top, breast side up.
Brush melted butter all over chicken and season with salt and pepper.
Place pan back in oven and cook until an instant read thermometer inserted into the thickest part of the chicken reads 160°F, or about 50 minutes.
Let chicken rest for 10 minutes prior to serving.