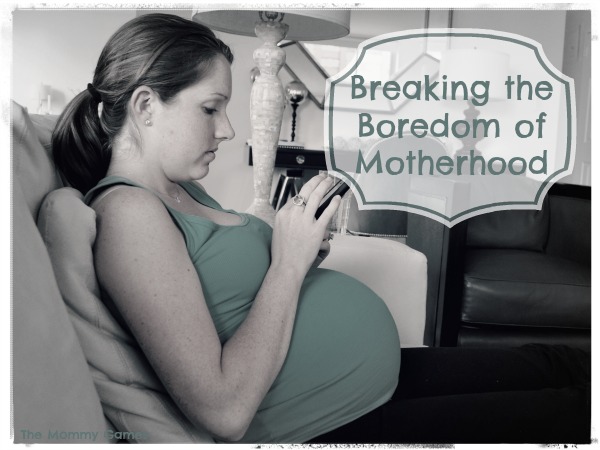 There's a lot of things people don't tell you about motherhood. For instance, I remember being shocked that the first few months of breastfeeding a newborn meant you never get to sleep more than a couple of hours at a time. What? Why didn't someone tell me this?? Not that I think being warned would have made it any easier, but a little heads up would have been nice. Or how time consuming solid feedings can be. Pretty sure I would have held off on those if I would have known they were going to take an hour plus! This list could go on and on, but I'm pretty sure all you moms out there know what I'm talking about.
One thing that I think isn't talked about often is how being a mom, especially a stay-at-home one, can be, well…boring. I'm all too familiar with the "I wish I could stay at home and play legos and do art projects all day!" comment. Enter fake smile and obligatory nod. Yes, those things can certainly be fun, but I think every woman has a limit to how much of that she can take. When the most exciting thing your 5-month old does is clap their hands or shake a rattle, those days at home can seem awfully long. Many mothers, myself included, had demanding jobs and full days before they had children. Even though a mom's day is most certainly full, it's not necessarily full of the most exciting variety.
So let's talk about some ways to battle the boredom:
♥ Schedule your Day – I know so many people are anti-scheduling, feeling like it inhibits spontaneity, but I feel like a well done schedule can actually encourage it. When I plan out the kids and my day, I usually block it off in 30 minute or hour sections. It prompts you to switch things up. You can schedule things like art, music, learning, independent play, outside, and even tv time. Throw in naps and meal times and most of your day will easily be accounted for.
♥ Get a Sitter – If possible, schedule a sitter for a few hours each week in which you do something solely for you. No errand running or grocery shopping. Go to a movie, get your nails done, sit in Starbucks and read a cheesy romance novel. Do something you considered fun before you had kids.
♥ Get Dressed and Get Out – Like, with make-up (no, chapstick alone doesn't count). I'm not talking about spending hours primping, but getting out of your comfy sweats and making yourself presentable will encourage you to get out of the house. Even if it just prompts you to take tummy time outside in the yard, feeling put together can be a huge mood lifter.
♥ Have one "Fun" Day a Week – Yes, your kids need regular naps and mealtimes, but once a week, throw that to the wind and do something fun. Go for a picnic or trip to the museum. Grab your other mommy friends and invade a local restaurant at lunch time (just make sure they have enough high chairs!). Head to the beach or pool. Get yourself out of the everyday rut and plan on doing something at least a little adventurous once a week.
♥ Classes and Events – Sign up for a music or baby gym class. Many places even offer cooking, dance, or art classes for toddlers. See if your local library or book store holds a story hour. Even if your baby is too young to even look at the story, go just to have something different to do. These also provide a great opportunity to meet other moms and, if you pick the right class, can be fun for you as well.
♥ Playdates – When I first became a mom, I was constantly thrown off by how often other moms wanted to have playdates. Now that I've been at this game for a while, I totally get it. Playdates can be just as much fun for moms as they are for kids. Find other moms whom you not only like, but have similar parenting style as you (this way, you don't have to have the "uh, no it's not okay that little Tommy is beating on my child or drawing on my walls" conversation) and whose kids are similar ages. We have one standing playdate with the same group each week, and then another day when I schedule playtime with other friends.  And if I happen to be the host, it's generally more of the Mommy Happy Hour type. Nothing like a glass of wine and girl chat to shake things up.
♥ Have more Kids – Kidding! Well, kinda. Although having more children will not make your life easier, it certainly will make it less boring. Not only are you busier, but the kids will interact and play with each other. A built in playmate also means that there probably won't be hard feelings if mom wants to bow out of hour 2 of playdoh.
Do you find motherhood to be boring at times? What do you do to keep your days from stretching on endlessly?