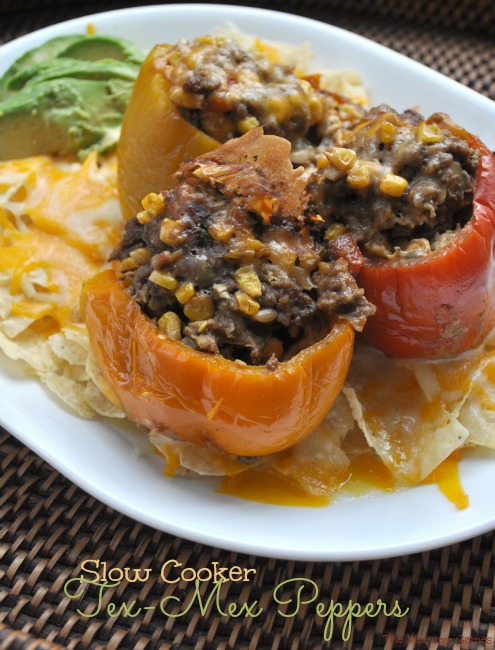 I love my slow cooker just as much as anyone, but it doesn't tend to get a lot of use in the summer. Heavy roasts and soups just aren't appealing when it's hot out.  The convenience of being able to get out and enjoy time outside, then come home to an already cooked dinner is too good to pass up though. That's why I've been in major experimental mode with all kinds of slow cooker recipes that are warm weather approved. So far, anything involving chicken has been too dried out, but this one, using ground beef, is a winner. Best of all, there's hardly 10 minutes of prep time, and you don't even have to turn on the stove. These peppers practically scream to be paired with a big bowl of guacamole and a cold Corona. The kids loved eating the filling (they weren't going near the actual pepper) on top of tortilla chips. These will definitely be appearing on our table many times this summer.
Slow Cooker Tex-Mex Peppers
Adapted from Slow Cooker Revolution
1/2 onion, minced
5 garlic cloves, minced
1-2 T chili powder
1 T vegetable oil
4 bell peppers (red, orange or yellow)
1 slice white bread, torn
1/4 cup whole milk
12-ounces 85% lean ground beef
1 cup frozen corn
1 1/4 cups Monterey Jack cheese, shredded
1 tsp canned chipotle chile in adobo sauce, minced
salt and pepper
Combine onion, garlic, chili powder, and oil in a bowl and microwave for 3-5 minutes, or until onion is softened.
Meanwhile, cut top off of each pepper and remove core and seeds.
In a large bowl, combine bread and milk and mash together with a fork.
Mix in onion mixture, ground beef, corn, 1 cup cheese, chipotles, 1 1/2 tsp salt, and 1/2 tsp pepper to the bread mixture.
Pack beef mixture into each pepper and place in slow cooker.**
Add 1/3 cup of water to bottom of slow cooker and sprinkle each pepper with remaining cheese.
Cover and cook for 4-6 hours on low.
**If you have extra filling, you can place it in the bottom of the slow cooker as well. It makes an excellent topping over tortilla chips.