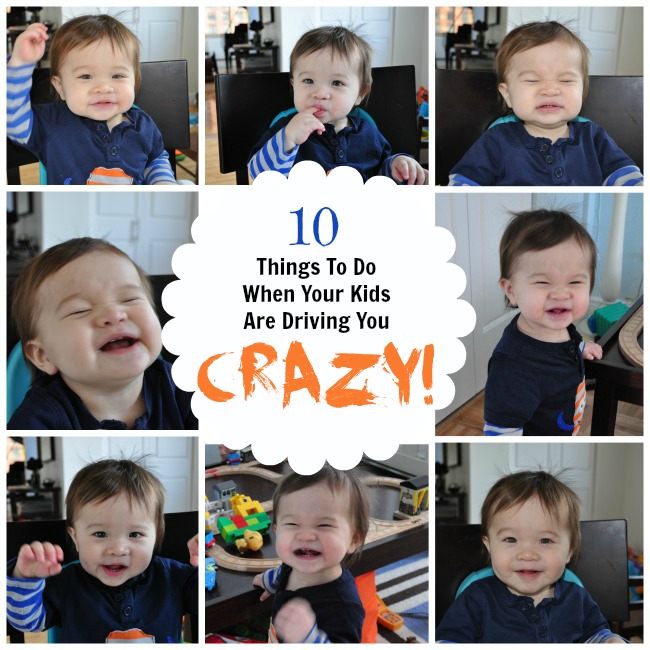 We've all been there. Your child, despite disciplinary repercussions, has been incessantly whining, emptied all of their dresser drawers (and yours), spilled the dog's water everywhere, and capped it all off by scattering garbage throughout the house. Oh, and did I mention that your newborn appropriately picked this minute to have a major blowout that has left both you and him…decorated? Yep, even the most patient of moms meet their breaking points at times. Before you get ready to ship your little angels off to Grandmas, let's talk about some strategies to use when you need to reset this chaotic, manic vibe.
As a bit of a warning, I don't suggest using these on a regular basis, just when you truly are at your whits end. You don't want to constantly be teaching your child that by behaving badly they will actually be rewarded, but let's face it, there are times when small indulgences are well worth a little peace. So here's my go-to, "Save Mommy's Sanity" moves:
1) Pump the jams – Sometimes all it takes to turn a mood around is some loud, upbeat music. My kids will usually go from hissy fit to dancing happily in a matter of seconds. And belting out a few 80's lyrics is also pretty therapeutic for the adults involved.
2) Call Grandma – Or a favorite uncle or friend. Skype is even better. It's funny how our children can pull themselves together when they want to impress other adults.
3) Feed the natives – My favorite options are a popsicle, lollipop, or a big bowl of popcorn. Something that takes time to eat so that they can (hopefully) calm down a bit before it's gone. And be sure to grab a piece of chocolate for yourself. Doctor's orders.
4) Grant special access – Lean down close to their little ears and whisper, "would you like to go have a shower in mommy's bathroom?" or "I think we should sneak into the fancy living room." I've found that mayhem magically stops when kids are presented with an opportunity to venture into an unknown and usually closed-off area. It's like they inherently know this is special and therefore warrants best behavior.
5) Turn on the boob tube – God created TV for a reason. No, not so that you could watch catty housewives or sexy vampires (although, I'm in favor of both), but so that colorful, overly happy creatures can entertain your children for all of 2 seconds while you go to the bathroom in peace. Ipads work great as well, and you can even reason that they are learning something if you load them with educational apps.
6) Get outside – Sometimes you all just need a change of scenery and some fresh air. Avoid going places that you would be embarrassed if they continue acting out, like the grocery store or school playground where all your other mommy friends (with perfectly well-behaved children) hang out.
7) Isolate the problem – Sending a child to their room or plopping them in a playpen mid fit will most likely result in an immediate escalation of hysterics, but as long as you can be positive that they aren't a danger to themselves (we are talking super baby-proofed rooms here, preferably with video cameras so you can watch) there's a good chance that they will eventually settle down. If nothing else, you can use this time to take deep breaths and daydream about laying on a beach with a fruity cocktail.
8) Document – Bust out your cell phone camera and record all the gory, awful action. Kids love putting on a show, so once they realize what you're doing they might turn the volume up so high that the whole thing becomes almost comical. When I've done this, my kids eventually want to see the video of themselves, and end up laughing. I usually end up laughing too, although it's certainly more of a crazy-losing-my-mind kind of laugh. And seriously how much fun is this going to be to blackmail them with when they're teenagers?!
9) Ignore – I realize this can be nearly impossible, but it can be super effective at times. Throwing every toy they own down the stairs is a lot less fun when no one is watching. I like to grab a magazine and fake read (because really, I don't have that kind of zen to process anything when kids are going full tilt) to really add to the "I don't care" facade.
10) Throw your own tantrum – You've tried everything else, and let's face it, you probably want to scream, jump up and down, and sit on the floor crying anyways. So do it! Maybe your child will be so shocked that they'll stop too, or maybe they'll just cry louder. In any case, letting it out feels good.
And don't forget that at the end of one of these terrible, horrible, no good, very bad days, you are more than entitled to a deep fried meal, large glass of wine, and trashy tv. We moms gotta recoup where we can.
What ways do you cope with a house full of crazy?