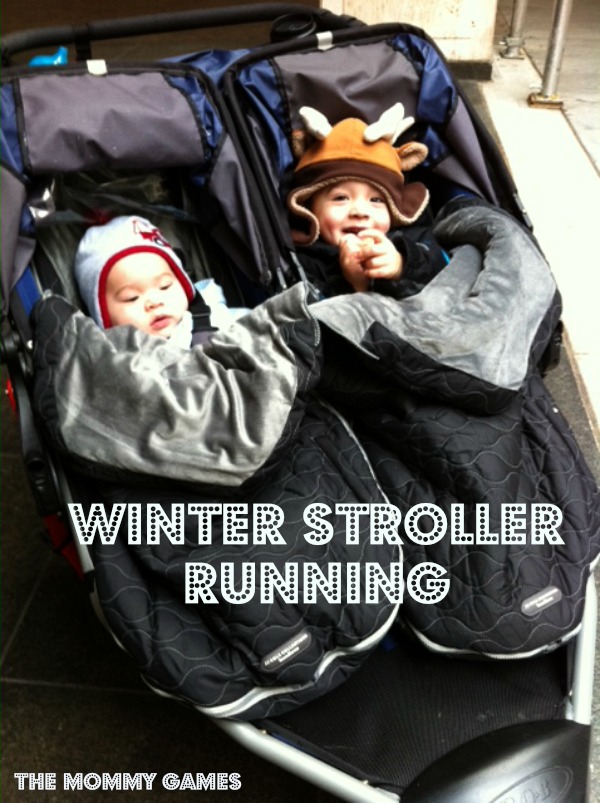 It might be cold out side, but mommy still needs to get in her run! There's only so many treadmill miles you can log before the monotony starts to get old. So let's talk about how to keep your little ones comfy and warm while you get your miles in outside.
Footmuff – I love these stroller blanket/sleeping bag things they make for strollers. They won't fall off, and many of them will grow with your child and are adaptable to most strollers, making them a great investment. I have tried 5 different versions, and my favorite by a mile is the JJ Cole Bundleme. You can load them up with extra blankets inside if it's super cold as well.
Hats & Gloves – We all know that the little ones must keep their ears and fingers covered, but finding hats and gloves that they won't rip right off can be tricky. For Brandon, I like to get him funny little hats that he then enjoys wearing (like the special reindeer one pictured above). Gloves have proved a bit harder, especially when he really wants to eat his snack or drink something unencumbered. Mittens that are connected with a string are especially helpful when running since they tend to go overboard less frequently.
Easy to Handle Snacks & Toys – This is not the time to test the dexterity of your little ones. They will have layers and gloves on which will limit what they are able to eat and play with without getting frustrated. For older babies, Mum-Mums are a great option (and my toddler actually loves them too). Bitsy's Brainfood cookies in letter shapes are awesome for toddlers because they feel like a treat but they are loaded with good for you stuff too. Lollipops are also great if your child is old enough. Keeping sippy cups connected to the stroller via a sippy strap is a must, since drinks can get cold and sent flying overboard. I like to give them musical toys too, since all they have to do is push a button and it entertains them for at least a few seconds. This little piano is one of our favorites to take on the run, and this toy bar is pure magic.
Wind Shield – If it's windy outside, this is an absolute must. It's also convenient to have when you get stuck in the rain. I use this one for my double BOB.
Plan Routes Close to Home – In my experience, kids tend to get crankier in the cold. I like to break my run down into smaller loops that I can do multiples of that keeps me close to home in case of a unexpected meltdown.
Have a Limit – I think it's a good idea to set limits on just what kind of weather conditions you will take the stroller and kids out in. For me, if it's below freezing, or if there seems to be ice on the ground, I head for the gym. I'm a wimp. Although my kids are half Canadian (thanks hubs!) and could probably handle it, I'm a Floridian and it just ain't happening at those temps.
 Do you have any tricks for keeping your kids warm and happy while running in the cold?