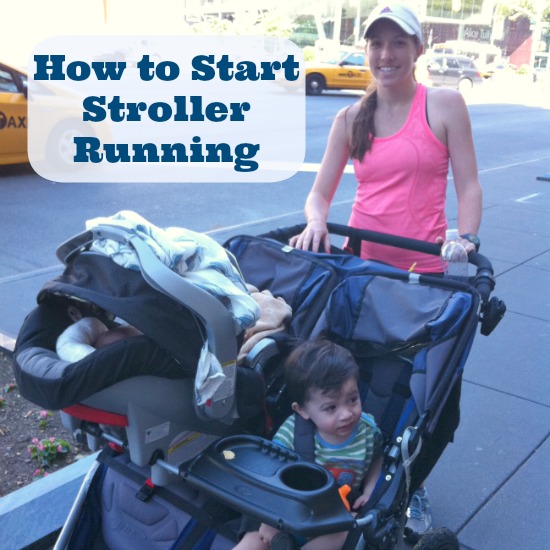 "How in the heck do you run with that thing?!" is a question I get all too often. People see me toting the kids to and from in our ginormous (at least by NYC standards) running stroller and can't believe I push it around the grocery store, let alone run with it. But with school out for summer, many moms, myself included, find getting in their workouts difficult. Stroller running is an awesome way to get in your cardio while the kids get fresh air. You are also showing them first hand what leading a healthy lifestyle looks like. I like to track the miles I run with my kids and can't wait to tell them that they've "run" 1,000 miles or something similar when they are old enough to understand.
Let me be frank, stroller running is hard. It amps up easy jogs and makes small hills seem like Mount Vesuvius. But hard isn't necessarily a bad thing. Do a few runs with the stroller, then when you head out without it, you will feel like you are flying. I'm convinced that stroller running has significantly helped improve my race times and overall fitness, and think it would benefit anyone, regardless of your current fitness level. So let's get started!
1. Get the Gear:

Running Stroller – You really need a stroller made for the purpose of running. It's safer for you and your kids, and your regular old Maclaren (although I love it) just isn't going to cut it. I've had both the single and double BOB and love them! Strollers can get pricey, so check out Craig's List or Ebay to see if you could get a gently used one (be sure to check the wear on the tires).
Drinks, Snacks & Small Toys – Gotta keep the kids entertained! Some will take a nap or be happy to enjoy the scenery, but if not, having something to occupy them is key. I frequently feed my kids breakfast during our early runs. And I always keep one "emergency" toy or snack handy (something they really like) for if they are truly at their wits end and we are almost home. And don't forget water for yourself.
Sunscreen & Hats – Good for mommies and kids.
Jackets or Blankets – Totally necessary in the winter or early morning. Here's a post I did on Winter Stroller Running.
Emergency Cash & Phone – Just in case.
2. Safety First – Before you start running, make sure your tires are pumped up correctly (check this regularly because not only are deflated tires dangerous, it also makes pushing the stroller extra hard) and that the kids are buckled in correctly. Now is not the time to trust your little one to stay seated without the seat belt. You will also want to lock the front wheels of your stroller (if they come unlocked in the first place) to keep it from drifting too much.
3. Start Slow – The first couple times you stroller run, try and keep any expectations you might have at bay. Just like any new exercise, you are going to be working new muscles and want to give your body time to adapt. I found that working towards time goals was helpful when I was just starting out or coming back from pregnancy. One day I would shoot for 5 minutes of straight running, then 10 minutes, etc. This gives you more leeway than expecting a certain mileage out of yourself. Try alternating running and walking, and allow yourself to go at a comfortable pace. Eventually, you will become comfortable enough with the mechanics (some people like the double hand hold, I err towards one handed and am constantly switching) and can try pushing the pace/distance if you feel ready.
4. Stretch – I know after you've worked so hard, doing anything extra seems really daunting, but don't skip stretching afterwards! Stroller running works all kinds of muscles and can be harder on your body than regular running. Stretching will work to decrease soreness and any chance of injury.
5. Keep at it – Just like with any new exercise, consistency is key. The more you stroller run, the better you will get at it. Your kids will also get used to the activity, so that they are able to stay content in the stroller for longer.
Want some more stroller running inspiration? Check these hot mamas out:
Lindsey – Once did a 20 mile run with her little guy in tow! What, what!!
Michele – Tempo run with a double! There are no words…
Dorothy – Runs with a TRIPLE stroller! She even recently raced with it!