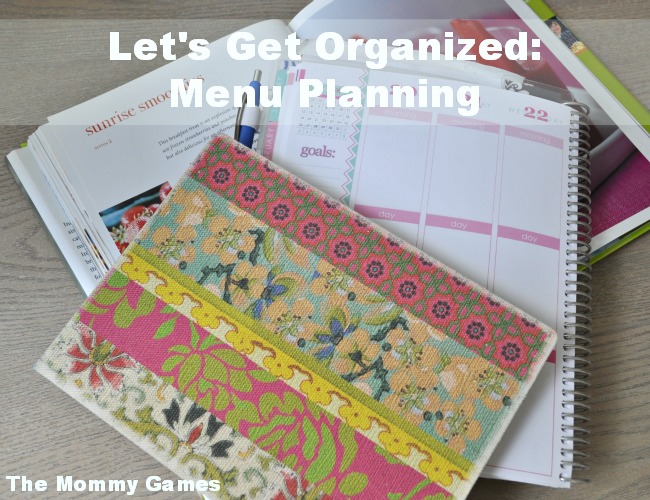 This is Part 2 in the "Let's Get Organized" series. If you missed it, here's Part 1 on Recipe Organization.
Weekly menu planning can be life changing. With a minimum amount of time (we are talking 10 minutes tops), you can set your family up with a week's worth of healthy, delicious meals and keep yourself from those last minute dinner time scrambles. A good meal plan accounts for all the various activities your family might have and gives you flexibility as to how much time/energy you have to invest in making dinner. If you want to go the extra mile, you can also line up breakfast and lunches, further streamlining your day. Here are my how-to's for weekly meal planning:
1) Prep Recipes & Meal Ideas – If you want to make menu planning a regular occurrence in your home, I highly suggest organizing your recipes and meal ideas. Taking the time upfront to do this once, then periodically updating it, will save you loads of time when it actually comes to laying out your meal plan. My favorite way is to use the computer, which allows you to see all your choices and is easy to update. I talk about this HERE.
2) Outline a Typical Week – Take a look at what your average week looks like and figure out how much time you can realistically allot to cooking each night.  Being realistic is the key. It's pretty simple to figure out you need something quick when it's a weekday and you have lots of activities, but also consider how much energy you typically feel like putting into your meals. For instance, I usually have plenty of time on Saturdays, but like to spend my downtime that day relaxing and reading rather than cooking. On the other hand, If you love spending hours in the kitchen on the weekend, by all means, account for that.
3) Plan Your Days – This is another trick to making this process super speedy. Go ahead and figure out the category of food you will cook each day. Have it line up with #2, and plan your easy or more involved meals accordingly. When organizing your recipes & meal ideas in step #1, give them the same title. If you have a day that you typically like to bake, you can account for that as well. Here's an example of our typical week:
Monday – Easy Weeknight (tried & true or new)
Tuesday – Leftovers
Wednesday – Date Night Out!
Thursday – Easy Weeknight (new)
Friday – Italian & Baking
Saturday – Slow Cooker or Delivery
Sunday – Sunday Dinner (something more involved or lengthy cooking time)
4) Write it Out – Next, simply pick your meals, corresponding with your plan from step #3, and write it down. I like to write it in my calendar, in a different color ink than the rest of my appointments.
5) Make Lists for Breakfast & Lunch – For weekdays, I have a set list of breakfast and lunch meals to choose from. After deciding on the dinners that week, I will choose breakfast and lunches from this list. I do dinner first so that we are sure to have varied meals (don't want to have quesadillas for lunch then tacos for dinner).
6) Be Flexible – Allow some wiggle room in your meal plan. Freeze ingredients if you don't get to make that meal (or go ahead and make it and freeze the cooked meal). Switch meals up mid-week based on what you feel like having. It's a rare week that I follow our menu to a "T."
As an example, here is one of our recent meal plans:
Monday – Chicken Caesar Pasta with Salad
Tuesday – Leftovers
Wednesday – Date Night!
Thursday – Steak, Baked Potatoes & Asparagus
Friday – Pasta, Sauce & Garlic Bread
Saturday – Delivery Mexican
Sunday – Praised Chicken (recipe up soon!)
Stay tuned for next month when we will talk about streamlining your grocery shopping!