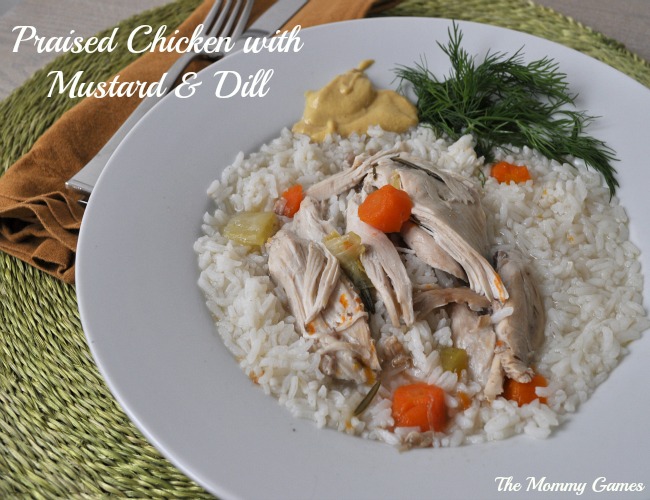 As I promised in my last post, here is the recipe for "Praised" Chicken. It's a Nigella recipe that I've been making for years, and is probably the most requested meal around our home in the winter time (it's one of my husband's favorites and both the kids love it, even my 11 month old). It's like a super kicked-up version of chicken soup. It's called "praised" because the chicken is first pan seared, then braised. It comes out super tender but with that almost roast chicken flavor. Plus, you get a nice amount of stock to keep in your freezer and use another time. You serve the chicken, veggies, and a little stock over rice with a side of Dijon mustard and a healthy portion of dill. It sounds a little different, but the whole combination is amazing. It's these little additions that make this a company worthy dish. This a surefire crowd pleaser, and although it takes a little time to simmer in the pot, is really a cinch to make. This has Sunday dinner written all over it.
Praised Chicken 
Adapted from Nigella Kitchen
1 large whole chicken (un-trussed and any giblets removed)
2 tsp garlic flavored olive oil
1/2 cup white wine
3 leeks, cleaned and cut into 1-inch pieces
3 carrots, peeled and sliced
2 celery stalks, sliced
1 bundle of mixed herbs, tied with kitchen twine (rosemary, thyme, parsley, or whatever you like)
2 tsp salt
2 tsp red peppercorns (or a few grinds of black pepper)
2 quarts water (may need more)
cooked rice (white is my preference)
fresh dill
Dijon mustard
Place oil in a large pot (with a lid) over medium-high heat.

Once oil is hot, add chicken, breast-side down.
Press down on chicken using a meat pounder (be careful of splattering oil, or could do this on a cutting board before placing in pot) to crack the breastbone and flatten slightly, and cook for a few minutes.
Flip chicken over and cook for a few minutes on the other side.
Add wine and let it reduce for 3-4 minutes.
Add leeks, carrots, and celery.
Add the bundle of herbs, salt, peppercorns, and enough water to so that the top of the chicken is just popping out.
Bring to a boil, put lid on, turn the heat to very low and let cook for 1 hour & 40 minutes.
Leave the lid on, but turn the heat off and let it sit for and additional 20-30 minutes over warm burner.
Serve chicken and vegetables over rice, with a good ladle of broth and mustard and dill on the side.
To Keep Extra Broth:
After serving desired amount, place a strainer over a large bowl, and pour in broth.

Let sit for a few minutes, then skim fat off the surface.
Refrigerate if using within a day or two, or freeze.