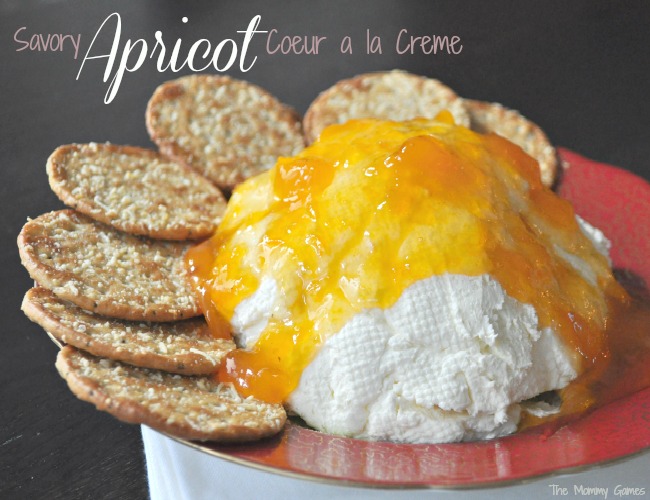 Happy Tuesday! We are finally home and just now getting back into the swing of things after being gone all last week. It's so hard coming out of vacation mode! I've been doing minimal cooking, and am pretty sure our suitcases might not get unpacked for a few more days. With this heat, I'm not super excited about turning on the oven either, which is why I'm sharing this delicious, no-bake appetizer option. When I was making this dish the other day, I remembered I had a jar of apricot jam in the pantry (leftover from these apricot almond crumb bars). I'm on a huge apricot kick right now, so it was the obvious choice. The sweetness of the jam was the perfect compliment to the tang of the cream cheese in this spread. This did not last long. In fact, everyone filled up on so much of this that they could hardly eat dinner. This has become one of my staple appetizer options since it's super easy to put together, and is a real crowd pleaser. You could change it up with whatever jam sounds good to you, or even do a spicy chutney if that's more your speed. Also, if you don't have a cheesecloth, you could use a few sheets of paper towel instead. It won't be as pretty (as you can tell from the unevenness in the picture), but works in a pinch.
Savory Apricot Coeur a  la Creme
Adapted from Barefoot Contessa How Easy is That?
12 ounces cream cheese, at room temp
1 cup heavy cream
zest of 1 lemon
1 T lemon juice
1 tsp salt
1/4 tsp pepper
9-ounces apricot jam (or whatever flavor you choose)
crackers (for serving)
Using an electric mixer, whip the cream cheese until smooth.

Slowly mix in the cream, lemon zest and juice, salt, and pepper, and beat until firm.
Place several layers of cheesecloth (or paper towels in a pinch) in a 6-inch sieve, and pour in the cream cheese mixture over top.
Fold ends of cheesecloth over top of the mixture, and suspend the sieve over a bowl.
Cover with plastic wrap and refrigerate overnight.
To serve, remove bowl with excess liquid, and turn the creme out onto a plate.
Pour the jam over top, and serve with crackers.